Cybercrime , Cyberwarfare / Nation-State Attacks , Fraud Management & Cybercrime
Collusion Investigation: 37 Indictments and Counting
'Senior Trump Campaign Officials' Knew of Russian Hacking - Stone Indictment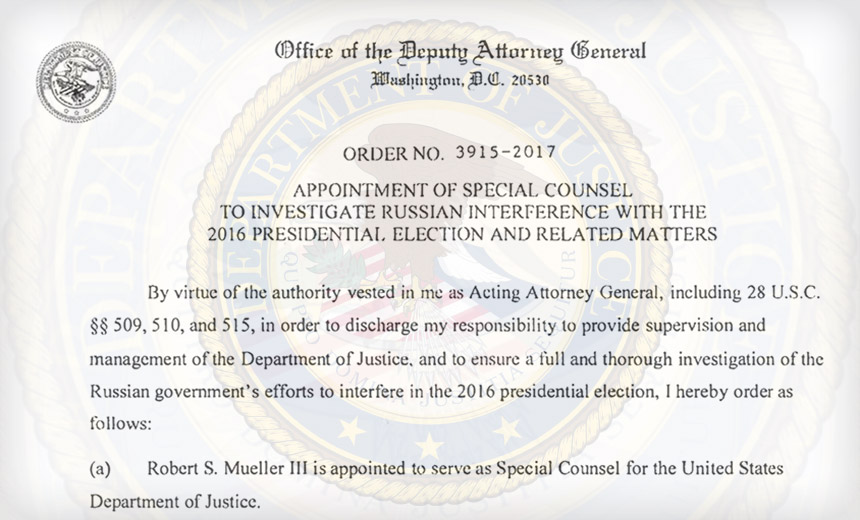 As Special Counsel Robert Mueller's investigation into Russian interference in the 2016 U.S. presidential elections continues, you could be forgiven for needing a spreadsheet to keep track of what's known about the probe.
See Also: Entering the Era of Generative AI-Enabled Security
Quick math: After more than 18 months, Mueller's investigation has led to 199 criminal charges, 37 indictments or guilty pleas and four prison sentences.
"Stone was contacted by senior Trump Campaign officials to inquire about future releases by Organization 1 [WikiLeaks]."
To date, six Trump advisers or government officials have been charged by the Special Counsel's Office:
Roger Jason Stone;
Michael Cohen;
Paul J. Manafort;
Richard W. Gates III;
Michael T. Flynn;
George Papadopoulos.
The latest charges resulting from the Mueller investigation were revealed on Friday, after FBI agents arrested Stone, 66, in a morning raid in Florida. He appeared in court later that day, where he was released on a $250,000 bond and ordered to appear in Washington federal court on Tuesday to be arraigned (see: Trump Adviser Stone Charged With Lying About WikiLeaks).
WikiLeaks Nexus
An unsealed federal grand jury indictment against Stone charges him with having served as a nexus between the Trump campaign and WikiLeaks, and then lying about it to Congress.
"During the summer of 2016, Stone spoke to senior Trump Campaign officials about Organization 1 [WikiLeaks] and information it might have had that would be damaging to the Clinton Campaign," the indictment states. "Stone was contacted by senior Trump Campaign officials to inquire about future releases by Organization 1."
The indictment does not state the identity of the senior Trump campaign officials.
Collusion Probe
President Donald Trump maintains that he never colluded with Russians.
Following Stone's arrest, Trump again derided Mueller's probe as being a "witch hunt." "NO COLLUSION!" Trump tweeted on Friday.
On Sunday, Trump referenced the leaking of Hillary Clinton's emails. Stone has been accused of acting as an intermediary from June 2016 between Russians who said they had the emails and Trump's campaign team.
"Roger Stone didn't even work for me anywhere near the Election!" Trump tweeted on Sunday.
Communications With Guccifer 2.0
Stone has previously said that he communicated with WikiLeaks. A U.S. intelligence analysis published in January 2017 accused WikiLeaks of having served Russian efforts to influence "the U.S. election process."
Stone has also acknowledged communicating with Guccifer 2.0 in August and September 2016 via Twitter direct messages. In March 2017, Stone published what he said was his entire exchange with Guccifer 2.0, after his communications had been outed by The Smoking Gun website.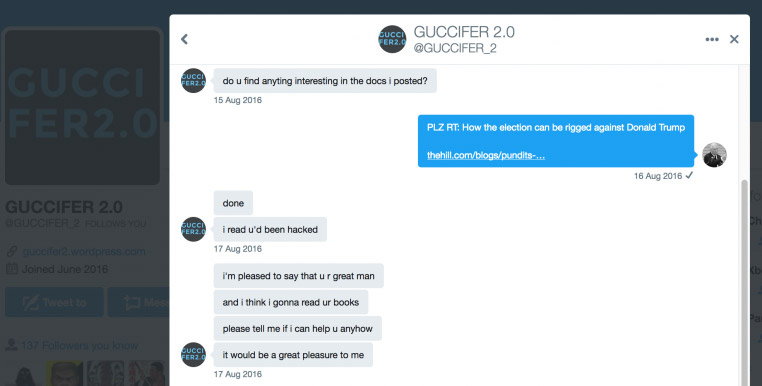 Roger Stone has released multiple screenshots of his Twitter direct messages with Guccifer 2.0.
The Department of Justice says Guccifer 2.0 was a cutout being run by Russia's GRU military intelligence agency, members of which have been indicted by Mueller for having hacked into the Democratic National Committee and Democratic Campaign Committee. The GRU's hacking efforts are also known as Fancy Bear, aka APT28 (see: Report: Guccifer 2.0 Unmasked at Last).
Russians Shopped Hacked Emails
How early might senior Trump campaign officials have learned that Russians had stolen copies of Clinton's emails?
The indictment against Papadopoulos says he first learned in April 2016 that Russians had "dirt" on Hillary Clinton, including "thousands of emails" that had been stolen. Those emails were released beginning in June and July 2016 via DCLeaks, a website allegedly registered by the GRU, as well as via WikiLeaks beginning on July 22, 2016, during the 2016 Democratic National Convention.
That wasn't the only time that WikiLeaks appears to have been aiding Moscow, Trump or both. On Oct. 7, 2016, the Washington Post published a video from 2005 in which Trump boasted about his behavior with women. Also that day: The Obama administration formally accused Moscow of having hacked the DNC and DCCC.
In an apparent effort to take the focus off of the Trump video, at least, WikiLeaks on the same day began to tweet links to leaked emails stolen from Clinton's campaign chairman, John Podesta (see: Nation-State Spear Phishing Attacks Remain Alive and Well).
Political Opponents Question Actions
U.S. intelligence agencies say that Moscow attempted to aid Trump's presidential campaign by leaking stolen Clinton emails.
The Russian government disputes any suggestion that it interfered in U.S. political affairs.
But Mueller's investigation suggests otherwise. In February 2018, a federal grand jury indicted 13 Russian nationals and three Russian entities, saying they attempted "to interfere with U.S. elections and political processes." In July 2018, the grand jury indicted 12 Russian nationals for allegedly using computer hacking to try and interference in the 2016 U.S. elections.
A U.S. intelligence assessment says the hacking was directed by Putin.
Pelosi Questions Trump's Motivations
The question of whether Trump has been attempting to pay back the favor - or even to deliberately aid Putin - continues to dog his administration. On multiple occasions, Trump has opted to not publicly condemn Putin for the hack attacks, going so far as to emphasize his denials of the findings of the U.S. intelligence establishment (see: How Trump Talks About Russian Hacking).
"The indictment of Roger Stone makes clear that there was a deliberate, coordinated attempt by top Trump campaign officials to influence the 2016 election and subvert the will of the American people," House Speaker Nancy Pelosi, D-Calif., said in a statement issued Saturday.
"In the face of 37 indictments, the president's continued actions to undermine the Special Counsel investigation raise the questions: What does Putin have on the president, politically, personally or financially? Why has the Trump administration continued to discuss pulling the U.S. out of NATO, which would be a massive victory for Putin?"
Who Knew What?
Mueller's investigators no doubt continue to probe these questions.
The indictment against Stone alleges that Trump's campaign team was not only communicating with Russian intelligence operatives, but also coordinating with them.
The indictment does not name senior Trump campaign officials who were working with Stone. Also left unsaid is whether Trump himself directed or had knowledge of these efforts.
Regardless of the answers to those questions, expect to see more charges along the way. Earlier this month, the 18-month term of the federal grand jury in Washington set up by Mueller was due to expire. But it's been renewed for at least six months.