CISO's Core Values Confront Life's Ugly Realities
Shutdown Tests CISO's Commitment to Public Service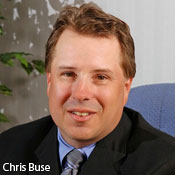 Chris Buse is experiencing one of those rare moments when one's ideals clash with the ugly realities of life.
See Also: Live Webinar | More Data, More Problems: Applying the Right Automation to Propel Security Operations
Buse is chief information security officer for the Minnesota state government, and like many dedicated people who work in government, he rightly sees his job as more than a paycheck; it's a calling to better society.
I can't tell you how immensely sad this makes me that we've done this to people who have worked so hard to develop these programs.
The ugly reality that forces Buse to confront his core principles is the shutdown that began July 1 of all but essential state government services in Minnesota, where the Democratic governor and Republican-led legislature have failed to enact a budget.
I spoke with Buse twice in the past two weeks, just before the shutdown (ee Government Shutdown Poses Unseen Challenges and a week into the crisis (see Shutdown Takes Toll on Infosec Pros).
Between the two interviews, Buse's mood of frustration with political leaders segued into one of sorrow.
"I can't tell you how immensely sad this makes me that we've done this to people who have worked so hard to develop these programs and to put the processes in place to make our security better across the government," Buse said Thursday, the seventh day of the shutdown, referring to his subordinates in Minnesota's IT organization.
Minnesota deemed Buse an essential employee, so he continues to work during the shutdown. But the state furloughed 90 percent of the IT security organization. Not sounding bitter but with a bit of resignation in his voice, Buse said:
"I drive in and see the Capitol every morning, and I feel like the shutdown has stolen part of the spirit that has kept me in government. I hope that when this is all over, I can get that spirit back. ... That's what kept me in government, and wanted me to succeed, that feeling that you're helping out citizens and society.
"But then when political leaders do something like this, it makes you question whether you should have had that spirit in the first place. I'm so upset about this, and worried about all the staff and employees, that I've got to figure out where I go from here."
Buse is one of the good guys, and let's hope that when normalcy returns to Minnesota government, he reconnects with the spirit that initially brought him to government service nearly one-quarter century ago. His departure from government service would be a tough loss for the people of Minnesota.