Cashing in on Cybersecurity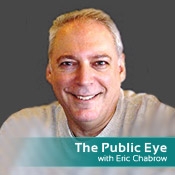 Maryland, probably more than any other state, can profit most from the expected increase in spending by government and business on cybersecurity. Just look at the venue Gov. Martin O'Malley picked Monday to unveil a plan called CyberMaryland to make the state the nation's hub for cybersecurity: the headquarters of NIST in the Maryland burg of Gaithersburg, a half-hour, non-rush hour drive from the White House.
The National Institute of Standards and Technology, of course, is the government agency responsible for developing guidance to operate IT systems securely. In his prepared remarks, O'Malley said:
"Maryland is poised to lead the nation's war on cyber crime. From the innovative work being conducted at NIST, our universities and Maryland companies both large and small, to our highly-educated IT workforce, we have a duty to ensure the safety and security of every American citizen against this growing threat."
A gracious Patrick Gallagher, the NIST director, said the agency was proud to host this event:
"Our efforts are greatly strengthened through collaborations with the state and private sector, and I welcome Gov. O'Malley's strong leadership in this area."
CyberMaryland recommends:
Creating a National Center of Excellence for Cybersecurity in Maryland, which calls for a partnership between federal and state government, the private sector and academic institutions and includes an incubator; cybersecurity testing laboratories; information sharing about vulnerabilities in hardware, software and IT systems; education and training.

Developing a cybersecurity/IT law council to advise the governor and state leaders.

Launching an aggressive effort to brand Maryland as the epicenter of cyber intelligence, which would help the state to attract national and global information technology companies.

Focusing Maryland's academic efforts on science, technology, engineering and math to meet the increasing workforce needs of the cyber and IT industry.

Aligning the state's cybersecurity best practices with those of the federal government to ensure a cohesive and consistent vision.
Maryland elected officials at the CyberMaryland announcement cited its top research universities, Johns Hopkins and University of Maryland, to name two; its highly educated workforce; and $12.2 billion in federal research and development investments in the state as factors why it could become the nation's R&D cybersecurity Mecca.
But with not only NIST, but 50 key federal facilities and 12 major military installations within its borders, including the National Security Agency as well as the Army's Communication and Electronics Command and Defense Information Systems Agency that soon will relocate to the state, Maryland has one advantage every other state doesn't: location, location, location.