Cyberwarfare / Nation-State Attacks , Endpoint Security , Fraud Management & Cybercrime
5G Security in the Balance as Britain Navigates Brexit
PM Boris Johnson: US 'Must Tell Us What's the Alternative' to Chinese-Made Gear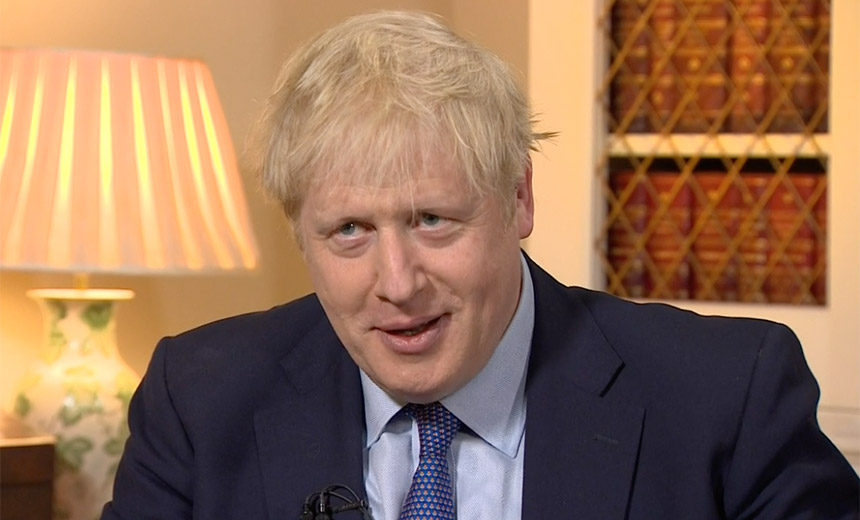 Britain continues to collectively debate its existential future, including the meaning and timing of its so-called "Brexit" from the European Union. The British government's self-imposed Brexit deadline has now been rescheduled - for the third time - to Jan. 31.
See Also: Live Webinar | Cyber Resilience: Recovering from a Ransomware Attack
No date, however, has yet to even be penciled in for answering a question which, while it lacks the scale of Brexit, will nevertheless also help shape the future of Britain's national security: Whether the country will allow Chinese vendors, including Huawei and ZTE, to be part of its 5G rollout.
"The British public deserve to have access to the best possible technology."
That's one question former Prime Minister Theresa May failed to answer - despite reports that an answer might be made in March or April 2019 - before she stepped down in July 2019, when Boris Johnson was elected by the Tory party to serve as its new leader, and thus prime minister. His party subsequently won last month's general election, keeping him in power. But for nearly six months now, he too has failed to answer the Huawei question, which persists over concerns about whether Chinese manufacturers can be trusted or if their technology might be used by the Chinese government to spy via other nations' networks.
Britain's apparent indecision continues in the face of heavy lobbying by the White House, which continues to try to steer all U.S. allies away from Chinese-built telecommunications gear (see Huawei Question Must Be Answered by New UK Prime Minister).
The U.S. National Security Agency's Rob Joyce, the senior cybersecurity strategy adviser to the director of the agency, said last April that any member of the Five Eyes intelligence-sharing alliance - comprising Australia, Canada, New Zealand, the U.K. and U.S. - that chose to use Huawei or other Chinese vendors might no longer be trusted to receive the most sensitive intelligence (see: Huawei's Role in 5G Networks: A Matter of Trust).
So far, however, only Australia has sided with the U.S., while Canada and New Zealand have taken a more nuanced view.
US Continues Press
This week, a team of U.S. officials, led by Deputy National Security adviser Matt Pottinger, met with senior British government officials to continue the Trump administration's press, The Wall Street Journal reports.
In response, Johnson remained equivocal. "The British public deserve to have access to the best possible technology. ... We want to put in gigabit broadband for everybody. Now if people oppose one brand or another, then they have to tell us what's the alternative," Johnson told BBC's Breakfast program on Tuesday in his first media interview of the new year.
He added: "On the other hand, let's be clear, I don't want, as the U.K. prime minister, to put in any infrastructure that is going to prejudice our national security or our ability to cooperate with Five Eyes intelligence partners."
U.K. Prime Minister Boris Johnson talks 5G security with BBC Breakfast on Jan. 14, 2020
Diplomatic Challenges
The U.S. push to block Huawei - the world's largest manufacturer of 5G gear - from Britain's 5G rollout is hampered on several fronts.
First, Britain's intelligence establishment early last year concluded that Huawei's "software engineering and cybersecurity processes" continued to beset by unresolved "defects," signaling to Huawei that it needs to do better.
But a separate, secret technical assessment prepared by the intelligence services reportedly also concluded that the risks of using Huawei as part of the national 5G rollout - especially for non-core parts of the network - can be minimized if the process is appropriately managed (see Report: UK Believes Risk of Using Huawei Is Manageable).
That technical assessment appears to have clashed with the bigger diplomatic picture. For now, Britain appears to be caught in a "damned if you do, damned if you don't" scenario. Ban Chinese vendors, and condemnation from Beijing would be swift. Adopt Chinese gear, on the other hand, and the U.S. could impose trade sanctions and withhold intelligence.
With the future of Britain's post-Brexit trading relationships with both countries at risk, the U.K. government cannot afford to anger either superpower.
No 'Smoking Gun'
So far, the White House has produced no public evidence to substantiate its allegations. Huawei and ZTE say they have done nothing wrong.
Arguably, the Trump administration's failure to produce a "smoking gun" has hampered its position, although officials say the risk is more abstract, as well as tied to Beijing's geopolitical goals.
"The real question is not looking for a smoking gun but asking whether this is a loaded gun and whether you want to have that risk," former Australian Prime Minister Malcolm Turnbull has commented, the BBC reports.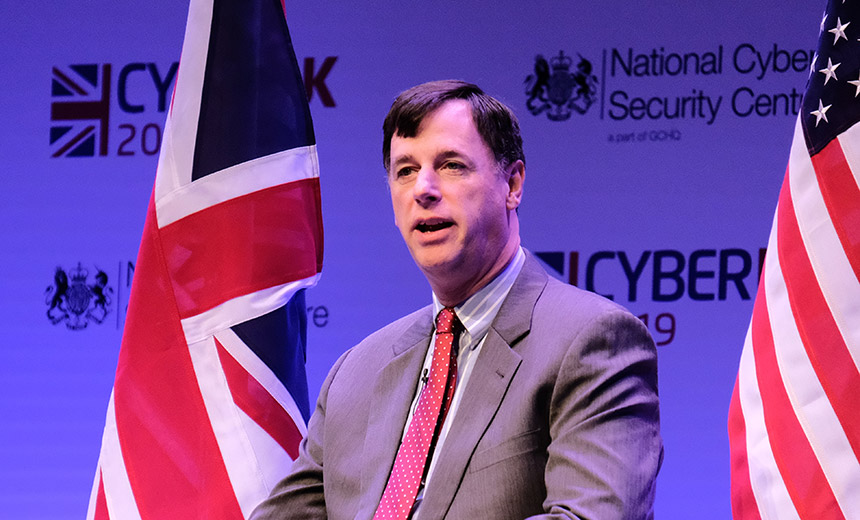 The NSA's Rob Joyce warned that making the wrong decision over Huawei might give Beijing a "loaded gun," in a Five Eyes panel held at the U.K. National Cyber Security Center's April 2019 CyberUK conference in Glasgow, Scotland. (Photo: Mathew Schwartz)
U.K. telecommunications providers have already spent billions of pounds on gear from Chinese vendors, including Huawei, the BBC reports. Ripping and replacing that gear would not only be prohibitively expensive, but also delay Britain's 5G adoption, which would no doubt have an economic impact.
The Trump administration's "our way or the highway" diplomacy also doesn't appear to be shaping allies' hearts and minds. One European diplomat recently told the New Yorker's Evan Osnos that the Trump administration's clumsy loyalty test - either you're with us by banning Chinese gear, or you're against us - doesn't fly "when you're slapping tariffs on your European allies."
Lack of Alternatives
The Trump administration's tough stand belies a core problem not only for Britain, but also the U.S. and its allies: What are the alternatives to Huawei?
Sen. Mark Warner, D-Va., accuses the Trump administration of having taken an "erratic and incoherent" approach to China, including focusing on the country's spying habits when what is really required is a solid, domestic alternative to Chinese-made technologies backed by international collaboration.
Warner, the top Democrat on the Senate Intelligence Committee, says China's increasing technological prowess - across not just the areas of 5G and IT but also artificial intelligence, biotechnology and quantum computing - should be the trigger for a "Sputnik moment," driving massive investments to enable the U.S. to develop and field its own, top-of-class alternatives.
"We've always steered away from industrial policy, but we may need to make public-private investments, or government investments, in 'democracy 5G,'" Warner has said, the New Yorker reports.
To that end, Warner and Sen. Richard Burr, R-N.C., on Tuesday introduced the Utilizing Strategic Allied Telecommunications Act, which would award at least $750 million to firms developing 5G, and create a separate $500 million fund to promote "the adoption of trusted and secure equipment globally" (see Senators Field Legislation to Build Huawei 5G Alternatives).
Give the world solid alternatives to Chinese-made networking equipment, and arguably no diplomatic bluster would be required.