Blair's Resignation and U.S. Cybersecurity
Assessing National Intelligence Director's Impact on IT Security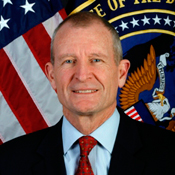 Dennis Blair, as national intelligence director, was actively involved in helping shape federal IT security policy, but his resignation Friday should have minimal impact on the nation's efforts to secure its sensitive and top secret information stored on government and military computers.

"It won't have any effect," said James Lewis, senior fellow at the Center for Strategic and International Studies, a public policy group. "The cyber effort is largely run out of DoD and DHS," a reference to the Departments of Defense and Homeland Security.

That's a point picked up by retired Air Force Lt. Gen. Harry Raduege, the former director of the Defense Information Systems Agency and co-chairman of the CSIS's Commission on Cybersecurity for the 44th Presidency: "Our nation's cybersecurity efforts are continuous. We have new oversight and coordination being provided by Howard Schmidt, the White House cybersecurity coordinator. DOD has just established the U.S. cyber command and DHS has important new initiatives underway."

And, as former Federal CIO Karen Evans observed: "The ODNI organization will continue to provide the necessary intelligence and the staff will continue to support the appropriate activities to assist federal agencies through the efforts of the Department of Homeland Security and the national coordinator for cybersecurity."

In fact, the National Security Agency, the super-secret, electronics surveillance agency run by the Defense Department and headed by Army Gen. Keith Alexander, who also is the new military cyber commander, arguably has more sway on cybersecurity policy than the Office of the Director of National Intelligence.

That said, during his tenure as national intelligence director, Blair recognized the synergy between national security and economy security, and advocated initiatives that protected government and business systems. "He understood the threat to our core infrastructure and facilitated information flow to the private sector so that they were better armed and could begin to defend themselves," said Melissa Hathaway, the national intelligence official who led President Obama's 60-day cyberspace policy review last year and had worked with Blair and his predecessor, retired Michael McConnell.

In congressional testimony earlier this year, Blair outlined steps he was taking as national intelligence director to secure critical IT systems. For instance, he said, he charged a new national counterintelligence executive to create a cyber directorate within his office that would provide outreach for foreign intelligence threat warnings and ensure insider threats are thwarted by the U.S. through use of technology and operational countermeasures. "I believe this emphasis can augment and improve existing cyber efforts toward improving national and economic security for our nation," Blair said.

The job of director of national intelligence, created in the aftermath of the 9/11 terrorist attacks, is seen as a thankless one, because the charge of coordinating the activities of 17 intelligence agencies is viewed as insurmountable. Indeed, Obama reportedly sought Blair's resignation, in part, because the failure of the intelligence community - most headed by strong-willed executives with their own power based - to connect the dots in discovering the underwear bomber who tried to destroy a jetliner on a flight to Detroit last Christmas day.

Blair's downfall wasn't related to cybersecurity matters; still the question remains whether future national intelligence directors will have more sway over federal IT security policy.

Richard Stiennon, author of the just-published book Surviving Cyber War characterized Blair as a voice for increased cybersecurity. "But because of the limited powers in the office of Director of National Intelligence, (he) was not making much headway in improving the overall security posture of U.S. government networks," he said. "Perhaps a future appointee, with a strong cyber background, could change that."

Cyber is increasing in importance in intelligence work, suggesting for the need of an IT security-savvy national intelligence director. Another co-chair of the Commission on Cybersecurity for the 44th President, Rep. Michael McCaul, R.-Texas, offered in an interview with GovInfoSecurity.com a scenario in which authorities nabbed foreign spies caught inside the Pentagon pilfering top-secret papers. "Imagine the alarm that would cause across the nation," said McCaul, who also co-chairs the House Cybersecurity Caucus. "Yet, in the virtual world, that is happening every day and so much data has been stolen; it rivals the amount of the data in the Library of Congress. This is not some hypothetical game."

It's a point made a few years ago by CSIS's Lewis, who also serves as the 44th presidency commission's project leader: "The thing to watch is how long it will take the next DNI to realize this is the biggest intelligence problem we face."