Bill Would Create Cyber-Units in National Guard
Adding a Layer of Protection to National Defense in Cyberspace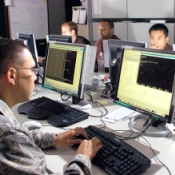 Imagine the president of the United States, in some future conflict, calling up the National Guard to defend cyberspace.
See Also: Live Webinar | How to Identify & Address Risk with Attack Simulation
That's a distinct possibility if legislation introduced in the Senate becomes law.
The Cyber Warrior Act of 2013, S. 658, would establish a cyber and computer network incident response team in each state and Washington, D.C., which a governor or the president, through the defense secretary, could call up to respond to a devastating cyber-attack.
"Our military and homeland cyberdefense forces are thousands short of the need identified by our leaders," the bill's chief sponsor, Sen. Kirsten Gillibrand, D-N.Y., says in a statement explaining the need for the legislation. "We must ensure that we can recruit and retain talented individuals who can protect our nation's cybersecurity at home and abroad."
Cybersecurity-trained active and reserve Guard members would furnish private-sector IT expertise and experience to the military and government, the senator says. Keeping expertise within the Guard would be another benefit of the legislation. "The use of the Guard would also support the goal of retaining the cybertraining of military personnel when they retire," Gillibrand says.
According to the Congressional Record, the legislation would have the National Guard support existing cybersecurity efforts of the Departments of Homeland Security and Justice and the Secret Service, as well as services provided by local and state authorities.
The bill also would authorize governors to ask their National Guard to help train state and local law enforcement and other cybersecurity responders and help them develop sound best practices to allow more cohesive interaction with federal responders.
Cyber National Guard members would receive the same level of training as active-duty cybersecurity personnel when practicable.
The bill also would require description and assessment of various approaches to recruit and retain members of the regular and reserve components of the Armed Forces; an assessment of the use of virtual and/or short-term deployments in case of cyber-incident responses; and a description of the training requirements and physical demands in the cyber-specialties.
The legislation was referred to the Senate Armed Services Committee.