Authorities Seize 'Darknet' Drug Sites
FBI, Europol Target Silk Road 2.0, Narcotics Vendors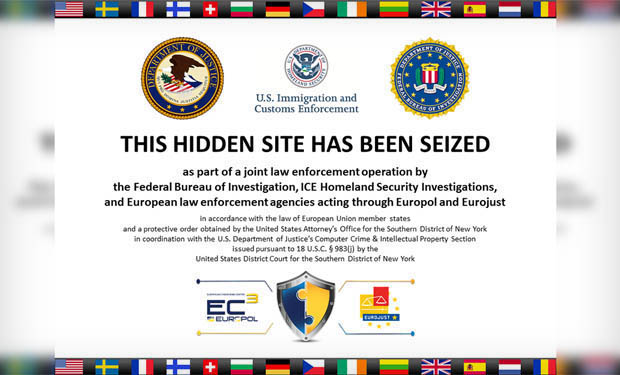 Law enforcement officials in Europe and the United States on Nov. 7 announced that they have arrested 17 vendors and operators of "Darknet" online marketplaces selling narcotics, weapons and other items. They shuttered 410 hidden online services and seized more than $1 million in bitcoins as well as more than $220,000 in cash, drugs, gold and silver as part of an investigation code-named "Operation Onymous."
See Also: Live Webinar | Generative AI: Myths, Realities and Practical Use Cases
Officials say the operation targeted vendors and distributors of illegal or harmful items that were sold via ".onion" sites that were accessible only via the anonymizing Tor network, also known as the Darknet. The disrupted sites included "Silk Road 2.0," which was a reboot of the notorious Silk Road narcotics marketplace. Drug marketplaces Black Market, Blue Sky, Cannabis Road, Cloud 9, Flugsvamp, Hydra, Pandora and Topix; and money-laundering sites Cash Flow, Cash Machine, Golden Nugget and Fast Cash, were also seized, Wired reports.
"Today we have demonstrated that, together, we are able to efficiently remove vital criminal infrastructures that are supporting serious organized crime," says Troels Oerting, head of Europol's European Cybercrime Centre, or EC3. "And we are not just removing these services from the open Internet; this time we have also hit services on the Darknet using Tor where, for a long time, criminals have considered themselves beyond reach. We can now show that they are neither invisible nor untouchable."
Operation Onymous is a joint effort of EC3, the FBI, the U.S. Immigration and Customs Enforcement's Homeland Security Investigations agency, and EU agency Eurojust, which handles judicial cooperation relating to criminal matters.
Silk Road 2.0 Takedown
As part of the operation, the FBI says it has arrested 26-year-old Blake Benthall, a.k.a. Defcon, in San Francisco on charges that he owned and operated the hidden Silk Road 2.0 website. His arrest on Nov. 5, and the site's takedown, comes nearly one year after the FBI shut down the original Silk Road, charging Ross Ulbricht - the alleged "Dread Pirate Roberts" - with owning and operating the site.
The U.S. Justice Department has filed a number of charges against Benthall, including narcotics trafficking - which carries a maximum sentence of life in prison - as well as computer hacking, trafficking in fraudulent identification documents and money laundering.
Silk Road 2.0 provided "a safe haven for illegal vices, such as child pornography, weapons distribution, drug trafficking and murder-for-hire," says Kumar Kibble, the U.S. Homeland Security Investigations regional attaché in Germany.
According to a related complaint that was unsealed Nov. 6, Benthall launched the Tor-based Silk Road 2.0 site in December 2013, and by September 2014 it was generating monthly sales of at least $8 million and had attracted about 150,000 active users. "As of Oct. 17, 2014, Silk Road 2.0 had over 13,000 listings for controlled substances, including, among others, 1,783 listings for 'Psychedelics,' 1,697 listings for 'Ecstasy,' 1,707 listings for 'Cannabis,' and 379 listings for 'Opioids,'" court documents say. "Besides illegal narcotics, other illicit goods and services were openly advertised for sale on Silk Road 2.0 as well, including fraudulent identification documents and computer-hacking tools and services."
"The FBI worked with law enforcement partners here and abroad on this case and will continue to investigate and bring to prosecution those who seek to run similar black markets online," says George Venizelos, FBI assistant director-in-charge.
Irish Arrests
As part of Operation Onymous, the Irish Garda - the country's police force - on Nov. 5 arrested two men in Dublin on charges of running a Darknet narcotics marketplace. Police say they recovered Ecstasy tablets - MDMA; Lysergic Acid - LSD; and other illegal narcotics with a total street value of $225,000, as well as details of offshore bank accounts in Belize, Poland and Switzerland, and a cache of bitcoins.
During the Dublin raid, police say they managed to recover computers that were set to encrypt all of the data they stored. But at the time of the raid, the computers were unlocked, and police were able to retrieve the bank account details, as well as contact details for clients of the alleged Darknet narcotics marketplace. "The fact that such a significant vendor has been arrested in the presence of an encrypted but open computer - with address lists for customers all over the world - will be of significant interest to many global law enforcement agencies who specialize in Darknet investigations," the Garda say.
Encryption: No Silver Bullet
In recent years, law enforcement agencies around the world have warned that the increasing proliferation of Tor and other easy-to-use encryption services has made it more difficult for them to investigate criminal enterprises. But the Onymous arrests suggest that using encrypted services isn't a silver bullet.
"While encryption makes the work of law enforcement more difficult it does not make it impossible," says Brian Honan, a Dublin-based information security consultant who also runs Ireland computer emergency response team. "Simply using encryption alone on the Internet is no guarantee that you will remain secure. People need to take into account other operations security - OPSEC - aspects. Good OPSEC requires very strong discipline as it requires doing many things, such as not reusing user accounts across different platforms, not mentioning items such as weather or sports that may reveal your location, using strong passwords, and using separate equipment for normal activities and your secure activities - to name but a few considerations."
In other words, just because criminals use encrypted services doesn't mean they're beyond the reach of law enforcement agencies. "Police also have many years of experience and expertise in investigating crime and can use traditional policing methods in parallel with online activities, such as inserting undercover agents into the target organization, or using informants," Honan says.
In fact, the U.S. Department of Justice says that a Homeland Security Investigations agent, working undercover, managed to infiltrate the support team for Silk Road 2.0, at which point the agent gained access to parts of the site that were reserved for Benthall and his team of administrators.