Encryption & Key Management , Endpoint Security , Governance & Risk Management
Attorney General Presses Apple to Unlock Shooter's iPhones
William Barr Labels Pensacola Attack as an Act of Terrorism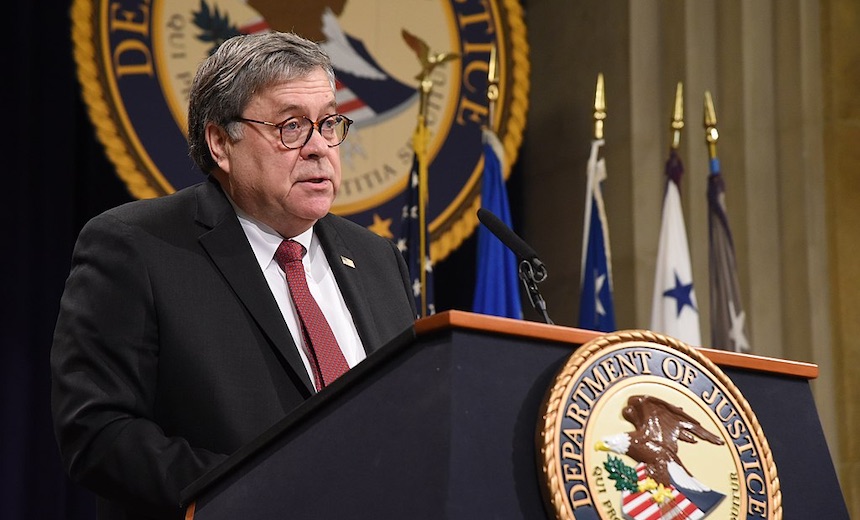 U.S. Attorney General William Barr is ratcheting up the pressure on Apple to unlock two iPhones belonging to a Saudi national who killed three at a military based in Pensacola, Florida, in December. In comments on Monday, the attorney general labeled the shooting as an act of terrorism and accused Apple of hampering a counterterrorism investigation.
See Also: JavaScript and Blockchain: Technologies You Can't Ignore
Apple has already received search warrants from the FBI, the New York Times reports, and Barr's comments on Monday are a way to put additional pressure on the company to comply with those requests. On Tuesday, President Donald Trump tweeted that Apple should do more to assist the FBI in the investigation.
Barr's action comes at a time of rising tension between U.S. law enforcement authorities and Apple over the company's stance against breaking encryption technology used within iPhones. Earlier this month, the FBI wrote to Apple asking for help in accessing encrypted data stored on two iPhones belonging to the deceased shooter (see: FBI Asks Apple for Access to Saudi Shooter's iPhones )
On Dec. 6, Second Lt. Mohammed Saeed Alshamrani of the Saudi Royal Air Force, who was training at Naval Air Station Pensacola, killed three people and injured eight at the base. He was shot and killed by police.
Cracking Encryption
Following the attack, the FBI recovered two iPhones belonging to Alshamrani. One is an iPhone 7 with a fingerprint reader and the other is a an iPhone 5, a person familiar with the investigation told The New York Times.
Federal prosecutors and FBI agents have faced difficulties in extracting information from the iPhones due to encryption, according to the Times. Putting additional pressure on Apple, Barr says the encryption is stalling what he now labels as a counterterrorism investigation.
"It's very important for us to know with whom and about what the shooter was communicating before he died," Barr said Monday at a press conference in Washington. "This situation perfectly illustrates why it is critical that investigators be able to get access to digital evidence once they have obtained a court order based on probable cause."
Apple could not be reached for comment on Tuesday. On Monday, however, Apple CEO Tim Cook published a letter on the news website Input that notes the company has made attempts to accommodate the FBI's requests.
"The FBI only notified us on January 6th that they needed additional assistance - a month after the attack occurred," the letter states. "Only then did we learn about the existence of a second iPhone associated with the investigation and the FBI's inability to access either iPhone. It was not until January 8th that we received a subpoena for information related to the second iPhone, which we responded to within hours. Early outreach is critical to accessing information and finding additional options."
Legal Standoff
The FBI faced a similar legal stand-off in December 2015, when Apple declined to comply with its request to create a backdoor on the iPhone 5C owned by a shooter who killed 14 people in San Bernardino, California. A federal judge eventually issued an order compelling Apple to help bypass the encryption on the iPhone seized by the FBI (see: Apple Blasts Judge's iPhone Backdoor Order)
The FBI, however, dropped its legal action against Apple after it turned to a third-party vendor to bypass the encryption on the gunman's iPhone.
Apple responded by implementing more stringent encryption. The company has argued that creating a backdoor to its devices would result in increased hacking into any of its devices. And it contends that data privacy is a human rights issue.
"The government is asking Apple to hack our own users and undermine decades of security advancements that protect our customers - including tens of millions of American citizens - from sophisticated hackers and cybercriminals," Apple CEO Tim Cook wrote in an open letter in 2016. "Specifically, the FBI wants us to make a new version of the iPhone operating system, circumventing several important security features, and install it on an iPhone recovered during the investigation. In the wrong hands, this software - which does not exist today - would have the potential to unlock any iPhone in someone's physical possession."
Privacy vs. Law Enforcement
The FBI and other law enforcement agencies argue that encryption prevents investigators from accessing protected data that could be used to fight terrorism, drug trafficking and other serious crimes.
In the case of Pensacola attack, the FBI notes that access to the shooter's messages could determine if he was acting alone or sought help from others.
"So far, we have not identified any solid evidence that the shooter acted with any co-conspirators or that he was inspired by a specific group," FBI Deputy Director David Bowdich said Monday.
This is not the first time that Barr has raised concerns about encryption in applications. In July, Barr said that what he described as "irresponsible encryption" in Facebook-owned WhatsApp is endangering public safety, and he added that backdoor access by law enforcement would cause minimal data security risks (see: Attorney General Barr Argues for Access to Encrypted Content)