Cyberwarfare / Nation-State Attacks , Endpoint Security , Fraud Management & Cybercrime
At Hearing, Krebs Again Addresses Election Security
Former CISA Director Says Election Not Hindered by Outside Cyber Influence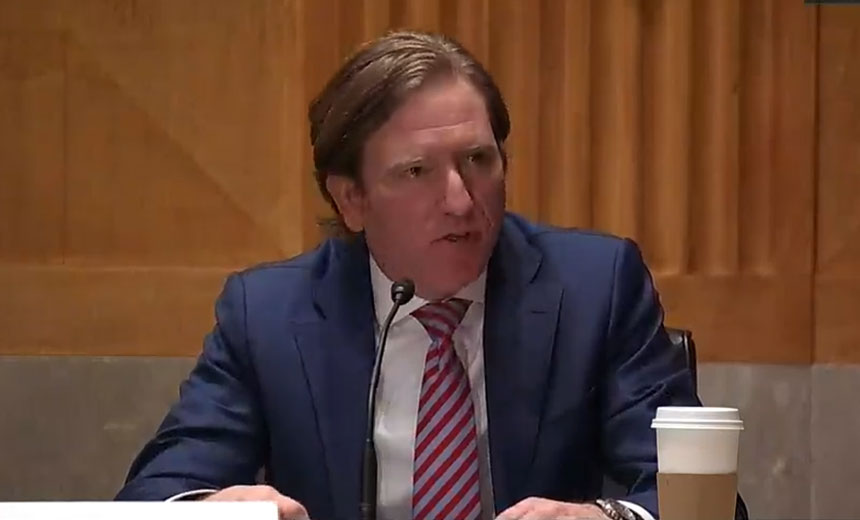 Christopher Krebs, who was recently fired by President Donald Trump from his role as director of the U.S. Cybersecurity and Infrastructure Security Agency, reiterated at a U.S. House committee hearing Wednesday that the November election was not tainted by cyberthreats.
See Also: JavaScript and Blockchain: Technologies You Can't Ignore
Krebs told the U.S. Senate Homeland Security and Governmental Affairs Committee in his opening remarks: "To be clear, based on my experience and understanding, no adversary has yet developed the ability to manipulate a single vote cast in a U.S. election. Furthermore, even if such a hack were conducted, it would be incredibly difficult to carry out such an operation on a scale that could change the outcome of a national election."
Committee Chairman Ron Johnson, R-Wis., said in his opening remarks that certain irregularities needed to be explored, including "corruption of voting machines and software that might be programmed to add or switch votes."
But Vice Chairman Gary Peters, D-Mich., countered Johnson's claims: "There was no election interference and the election wasn't rigged. In fact, independent election security officials, and the Department of Homeland Security, have called this election 'the most secure in American history.'"
Krebs was fired from his CISA post two weeks after the Nov. 3 election after stating the election had been secure.
Election Protection
At Wednesday's hearing, "Examining Irregularities in the 2020 Election," Krebs gave a brief review of what CISA did while he was the director to protect the election against cyberattacks and guard against misinformation campaigns.
The issue of voter fraud was raised by several committee members, but Krebs said CISA's role was to secure the election from cyber-related threats.
Krebs noted that CISA's Rumor Control website, which he created to debunk disinformation, had originally focused on information coming from foreign sources but, over time, it shifted to focusing on domestic disinformation campaigns.
"I think, generally, the disinformation currently, particularly domestically, is being used to create confusion and a certain narrative," Krebs said. For example, he pointed to unsubstantiated reports that votes were switched in some states by foreign actors.
"Current wild and baseless domestic claims of hackers and malicious algorithms flipping the vote in states across the country due to ties to deceased foreign dictators serve only to confuse, scare and ultimately undermine confidence in the election," Krebs testified. "All authorities and elected officials in positions of power or influence have a duty to reinforce to the American people that these claims are false."
Much of the hearing was devoted to a discussion of the validity and security of mail-in ballots.
The committee also heard testimony from former independent counsel Ken Starr; Donald Palmer, commissioner of the U.S. Election Assistance Commission; James R. Troupis and Jesse Binnall, attorneys working for the Trump campaign; and U.S. Rep. Francis X. Ryan, R-Pa.