Cybercrime , Fraud Management & Cybercrime , Governance & Risk Management
Assange Indicted in US Under Espionage Act
Case May Prove to be One of the Most Significant First Amendment Challenges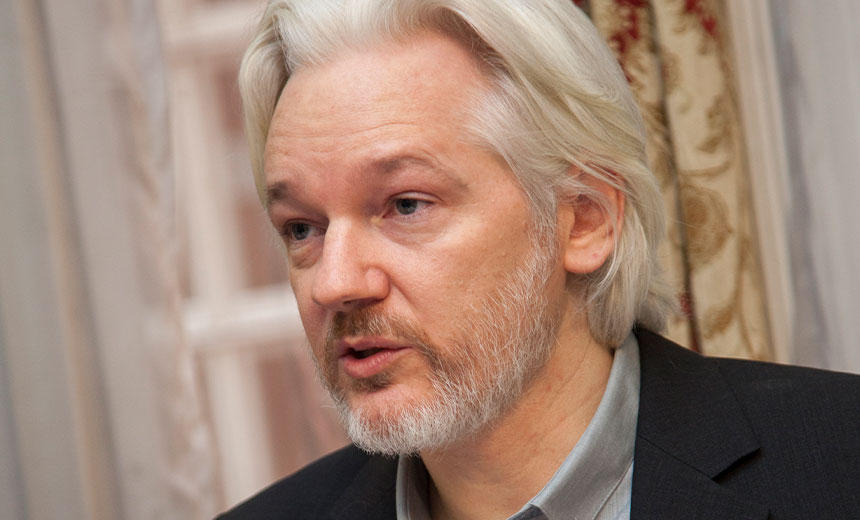 A federal grand jury has indicted WikiLeaks founder Julian Assange on 18 counts under the U.S. Espionage Act for his role in publishing classified material, the Justice Department announced Thursday.
See Also: Live Webinar | Breaking Down Security Challenges so Your Day Doesn't Start at 3pm
The 18-count superseding indictment unsealed Thursday is now likely to intensify the legal dispute surrounding the 47-year-old Assange and whether his publishing of classified documents is an act of espionage or a protected right under the First Amendment. Assange has always portrayed himself as a journalist and publisher and has denied any wrongdoing (see: WikiLeaks' Assange: A Nexus of Media, Hacking and Activism).
Tor Ekeland, a New York-based attorney who has defended high-profile hackers, says the indictment heralds what could be one of the most significant First Amendment cases ever. "It's an attack on the First Amendment, and they [the government] are trying to pretend that it's not," Ekeland tells ISMG. "It's dangerous because it's saying that the government can prosecute you for publishing information of public importance."
Some free press advocates argue that Assange's actions as described within the indictment are in many ways little different from those of reporters with accredited, mainstream organizations: nudging sources to get more information. WikiLeaks also at times worked with mainstream media organizations on investigations based on documents it received.
"The legal theories outlined here could just as easily be used to prosecute a reporter for the New York Times," writes Matthew Miller, who was the Justice Department's director of public affairs during President Barack Obama's second term. "Despite DOJ's assurance, the Espionage Act doesn't make any distinction between reporters and other actors."
The government alleges, however, that Assange obtained classified information "with reason to believe that the information was to be used to the injury of the United States or the advantage of any foreign nation" - a phrase that appears in several of the 18 counts again him. The indictment also alleges that Assange conspired to break into various computer systems, including the Pentagon's network, to steal classified documents that were later published on WikiLeaks.
Even though Assange mixed activism with nontraditional journalism, some in the publishing industry believe the First Amendment would protect him. "The First Amendment protects the *acts* of journalism, otherwise the government would determine who is and isn't a journalist and circumscribe the First Amendment," writes Justin Miller, national editor of The Daily Beast, on Twitter.
Big Legal Trouble
The indictment is the latest in a string of legal problems for Assange since British police dragged him from Ecuador's London embassy on April 11.
Ecuador withdrew its asylum protection for Assange. He then received a 50-week prison sentence in the U.K. for violating the conditions of his bail in a separate Swedish sexual assault case.
After being taken into custody by British authorities, the Justice Department announced it had indicted the Australian native on one charge of helping former Army Private Chelsea Manning hack into the Pentagon's network. Manning supplied Assange with classified material related to the Iraq war as well as other operations, which WikiLeaks then published (see: Assange Sentenced for Bail Jumping; US Extradition Looms).
Assange's attorneys have promised that he would fight extradition to the U.S. (see: WikiLeaks' Assange Signals He'll Fight Extradition to US).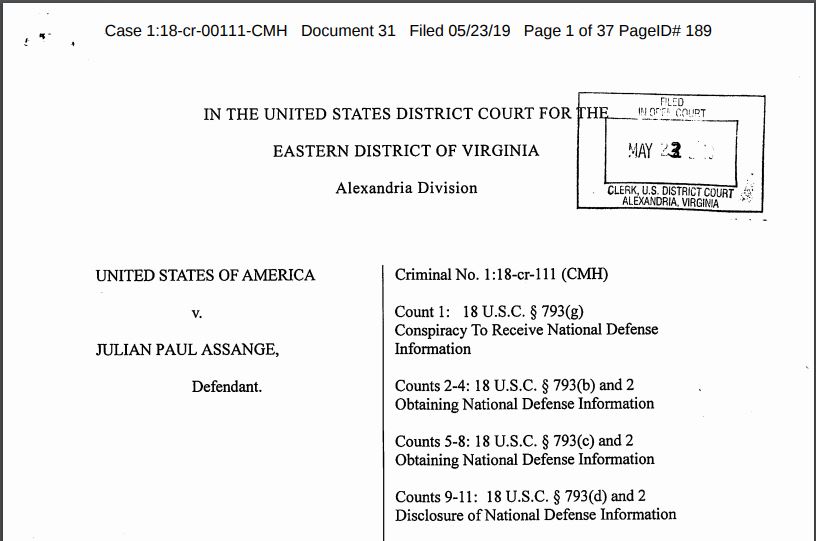 The 18-count indictment against Julian Assange
New Charges
The new charges laid out in Thursday's indictment carry a maximum sentence of 10 years in federal prison each, except for the one charge of conspiracy to commit computer intrusion, which carries a maximum charge of five years in prison, according to the Justice Department.
Federal prosecutors allege that starting in 2009, Assange and WikiLeaks began asking individuals to provide classified information from the United States government. This included publishing a list of "Most Wanted Leaks."
In late 2009 and early 2010, Manning provided much of that material, including databases and other files and documents that contained 90,000 Afghanistan war-related significant activity reports, 400,000 Iraq war-related significant activities reports, 800 Guantanamo Bay detainee assessment briefs, and 250,000 U.S. Department of State cables, according to the Justice Department.
Most of these documents were classified on the "secret" level, "meaning that their unauthorized disclosure could cause serious damage to United States national security," the Justice Department says.
Prosecutors allege the documents contained the unredacted names of people who provided information to U.S. forces in Iraq and Afghanistan as well as to State Department diplomats. This, according to the indictment, not only put those individuals at risk but also damaged U.S. national security.
"These human sources included local Afghans and Iraqis, journalists, religious leaders, human rights advocates and political dissidents from repressive regimes," the Justice Department statement says. "According to the superseding indictment, Assange's actions risked serious harm to United States national security to the benefit of our adversaries."
The indictment also lays out how federal prosecutors believe Assange and Manning conspired to break into various computer systems, including the Pentagon's network, to steal the classified documents that were later published on WikiLeaks. It also describes how Assange allegedly helped Manning crack a password hash to gain access to the Secret Internet Protocol Network - the network the U.S. uses for classified documents and communications.
Court Date in the U.K.
Assange is scheduled to appear before a British judge on May 30, although legal experts have told the New York Times and other publications that it could take months, maybe even years, for authorities to decide whether he can be extradited to the U.S. His attorneys plan to fight the extradition.
Meanwhile, police and prosecutors in Sweden plan to reopen a case involving sexual assault charges against Assange, CNN reports. This case, dating back to 2010, is what caused Assange to seek asylum in the Ecuador's London embassy for seven years.
Swedish authorities eventually suspended the case, but after Ecuador withdrew its asylum in April, Swedish prosecutors announced that they plan to reopen the investigation. It's possible that the British judge could extradite Assange to Sweden instead of the U.S.
Assange has said the allegations made by the two women in Sweden are unfounded.
Executive Editor Jeremy Kirk contributed to this report.