Cybercrime , Fraud Management & Cybercrime , Governance & Risk Management
Assange Denied Delay for US Extradition Hearing
British Judge Says Five-Day Hearing for WikiLeaks Founder Will Begin in February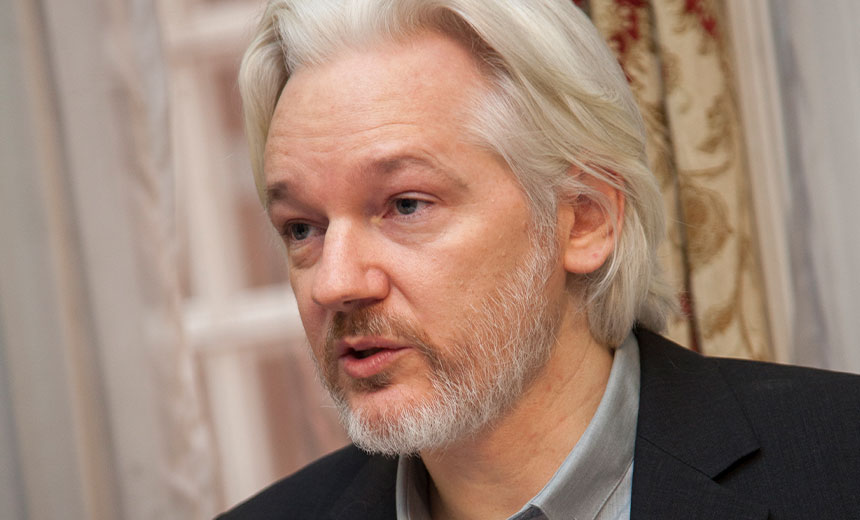 WikiLeaks founder Julian Assange and his legal team returned to court on Monday to argue for a delay in a hearing to consider his extradition to the U.S., where he faces an 18-count indictment for violations of the Espionage Act. A British judge denied the request, and the five-day hearing is slated to begin in Feb. 25, according to the Associated Press.
See Also: OnDemand | Understanding Human Behavior: Tackling Retail's ATO & Fraud Prevention Challenge
In making the argument for a three-month delay, Mark Sommers, one of Assange's attorneys, argued in Westminster Magistrates' Court on Monday that his team needed additional time to prepare considering the complexity of the case and the enormous amount of documents involved, AP reports.
Sommers accused the U.S. of spying on the WikiLeaks founder when he was granted political asylum in the Ecuadorian embassy in London, which could further complicate the defense, according to the Guardian.
District Judge Vanessa Baraitser, however, sided with the U.S. Justice Department, which requested that the hearing remain scheduled for February. Assange, 48, remains in custody and is serving a 50-week prison sentence in the U.K. for violating the conditions of his bail in a separate Swedish sexual assault case (see: Assange Sentenced for Bail Jumping; US Extradition Looms).
US Charges
In May, the Justice Department unsealed its indictment against Assange, charging him with conspiring with former Army intelligence analyst Chelsea Manning to break into government IT systems, including the Pentagon's network, to steal the classified documents that were later published on WikiLeaks.
The indictment also describes how Assange allegedly helped Manning crack a password hash to gain access to the Secret Internet Protocol Network - the network the U.S. uses for classified documents and communications.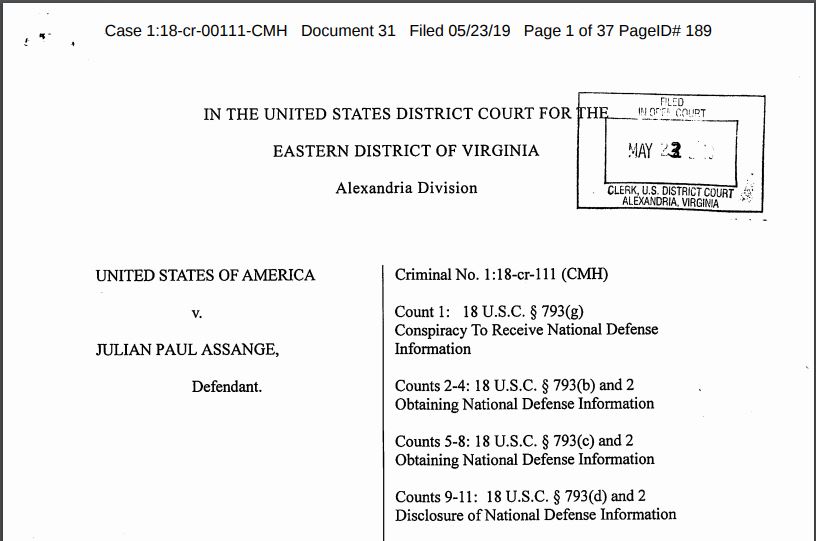 The 18-count indictment against Julian Assange
Most of the stolen documents were classified on the "secret" level, "meaning that their unauthorized disclosure could cause serious damage to United States national security," the Justice Department says.
Assange and his attorney have argued that he is a journalist who published documents in the public interest, and that WikiLeaks activities are protected under the First Amendment. Assange has also denied hacking into government computers (see: WikiLeaks' Assange: A Nexus of Media, Hacking and Activism).
Assange in Court
Before the Monday hearing, Amnesty International released a statement supporting Assange and his fight against U.S. extradition.
"The U.K. must abide by its obligations under international human rights law that forbid the transfer of individuals to another country where they would face serious human rights violations," says Massimo Moratti, Amnesty International's deputy director for Europe. "Were Julian Assange to be extradited or subjected to any other transfer to the USA, Britain would be in breach of these obligations."
Today, Julian Assange is expected to appear for his full extradition hearing. Were Assange to be extradited to the USA where he would face a real risk of serious human rights violations, UK would be in breach of its obligations under intn'l HR law. https://t.co/R8oKyOL8QJ

— Amnesty International (@amnesty) October 21, 2019
After the hearing, however, Assange, a native of Australia, told Baraitser that he was confused by the proceedings and that the size and scope of the case against him was unfair, according to the Guardian.
"I don't understand how this is equitable," Assange told the judge. "This superpower had 10 years to prepare for this case and I can't access my writings. It's very difficult where I am to do anything, but these people have unlimited resources."
If Assange is extradited to the U.S. to face trial, he could face several decades in prison if convicted of violating the Espionage Act. The charges laid out in Justice Department indictment carry a maximum sentence of 10 years in federal prison each, except for the one charge of conspiracy to commit computer intrusion, which carries a maximum charge of five years in prison, according federal prosecutors.
Assange and his legal team previously signaled that they plan to fight his extradition to the U.S. Even after the February hearing, Assange has numerous ways to appeal any decision, which could stretch the case out for several years, legal experts previously told the New York Times.
Assange is scheduled to make other appearances in British court in November and December, with the extradition hearing slated to begin Feb. 25, 2020.