Hand-in-Hand: Security and Innovation
'Future First' Theme of VanRoekel's First Speech as Federal CIO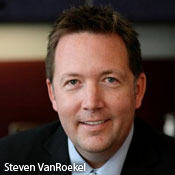 In his first address as federal chief information officer (see Former Bill Gates' Aide New Federal CIO), Steven VanRoekel says the government can be innovative in its use of information technology without sacrificing security.

"We shouldn't make the false choice between security and innovation," VanRoekel said Tuesday at PARC, the storied Xerox research center in Palo Alto, Calif. "In fact, innovation can make us more secure as long as we build security into everything we do."

The federal government's move to consolidate data centers, shutter legacy systems and move to cloud computing offers it the opportunity to enhance its cybersecurity posture, he said. "The private sector is already taking advantage of recent advances in cloud technology to make their systems even more secure," he said. "Going forward, we must build on top of a sound foundation of cybersecurity to ensure Americans and our government are safe."

Piggybacking on the Cloud First initiative instituted by his predecessor, Vivek Kundra (see Kundra Eyes 25% of Fed IT Spend on Cloud Services), VanRoekel unveiled Future First, an initiative to continuously architect government IT of the future.

"Much as our Cloud First policy changed the landscape of IT spending, Future First will jump-start the government's adoption of new technologies and approaches," VanRoekel said. "I envision a set of principles like XML First, Web Services First, Virtualize First and other firsts that will inform how we develop our government's systems.

VanRoekel said these "firsts" will establish a new default setting for architecting solutions throughout government and be continuously updated as new technologies emerge that would "ensure that our government is at the frontier of advancements that yield a higher return on our IT investments, increase productivity and improve the way the government interacts with the American people."