DHS Restructures Protection and Programs Unit
Cybersecurity Portfolio Spun Off from Other Responsibilities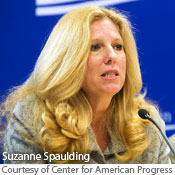 The Department of Homeland Security is creating a second deputy undersecretary for its National Protection and Programs Directorate, splitting the responsibilities that had been held by Phillip Reitinger, who resigned in June (see Reitinger Resigns Top DHS Cybersecurity Post).

Greg Schaffer, the DHS assistant secretary who has been serving as acting deputy secretary since the departure of Reitinger, the new Sony chief information security officer (see Ex-DHS Official Becomes Sony's CISO), temporarily will oversee the directorate's cybersecurity operations. The portfolio responsible for the Federal Protective Service, Office of Infrastructure Protection, Office of Risk Management and Analysis and U.S.-Visit, a biometric border and immigration tracking system, will be given to Suzanne Spaulding, who joins DHS in early October.

Plans for the reorganization were outlined in an e-mail sent to DHS employees last week by Undersecretary Randy Beers.

"Because of the growing importance of cybersecurity to DHS and the nation as a whole, NPPD has created a new position of deputy undersecretary for cybersecurity," Beers aid. "This position will help the directorate ensure robust operations and strengthened partnerships in the constantly evolving field of cybersecurity."

Beers, in the e-mail, said Spaulding's primary focus will be to reduce risk and enhance the resiliency of critical infrastructure, secure federal facilities and advance identity management and verification.

Most recently, Spaulding was a principal for the Bingham Consulting Group, a consultancy that helps clients deal with governments. Previously, Spaulding served as the minority staff director for the House Permanent Select Committee on Intelligence and as general counsel for the Senate Select Committee on Intelligence. Spaulding spent six years at a legal counsel at the Central Intelligence Agency and served as senior counsel and legislative director for then Sen. Arlen Specter of Pennsylvania.