Obama IT Team Coming Into Shape
President Names Performance, Technology Chiefs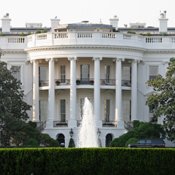 President Obama took a big step forward this weekend in creating his team that will develop and execute federal information management and IT security policies with the appointments of management consultant Jeffrey Zients as chief performance officer and Virginia Technology Secretary Aneesh Chopra as chief technology officer.

Zients also will serve as deputy director for management in the White House Office of Management and Budget, which requires Senate confirmation. As deputy director for management, Zients will become the chairman of the federal CIO Council. The deputy director also oversees the administrator of e-government and IT, a job held by Vivek Kundra, who Obama named in March and gave the additional title of chief information officer.

In his weekly radio and online video address on Saturday, Obama said the three men will work closely to set technology policy across the government and to use technology to improve security, ensure transparency and lower costs.

"The goal is to give all Americans a voice in their government and ensure that they know exactly how we're spending their money - and can hold us accountable for the results," Obama said. "None of this will be easy. Big change never is. But with the leadership of these individuals, I am confident that we can break our bad habits, put an end to the mismanagement that has plagued our government, and start living within our means again."

The president said Zients, the first-ever federal CPO, will work to streamline processes, cut costs and find the best practices throughout government.

As for the CTO, Chopra will report to the director of the White House Office of Science and Technology Policy. "Aneesh will promote technological innovation to help achieve our most urgent priorities - from creating jobs and reducing health care costs to keeping our nation secure," the president said.

How do the responsibilities of CIO and CTO differ? "One way to look at is that the CIO looks inward and the CTO looks outward," says OMB Communications Director Ken Baer. The CIO is a hands-on position, directing federal IT investments and providing oversight on federal information and IT security spending. The CIO assures the government IT infrastructure is architected to encourage secure, information sharing and guarantee the privacy protection of federal employees and American citizens. The CTO is a policymaker who will help develop the president's technology programs, such as expanding broadband access, developing electronic healthcare solutions and formulating net neutrality positions.

Here are Zients' and Chopra's biographies, as provided by the White House:

Zients has 20 years of business experience as a CEO, management consultant and entrepreneur with a deep understanding of business strategy, process reengineering and financial management. He served as CEO and chairman of the Advisory Board Company and chairman of the Corporate Executive Board. These firms are leading providers of performance benchmarks and best practices across a wide range of industries. Currently, he is the founder and managing partner of Portfolio Logic, an investment firm focused primarily on business and healthcare service companies.

Chopra serves as Virginia's Secretary of Technology. He leads the Commonwealth's strategy to effectively leverage technology in government reform, to promote Virginia's innovation agenda and to foster technology-related economic development. Previously, he worked as managing director with the Advisory Board Company, leading the firm's Financial Leadership Council and the Working Council for Health Plan Executives.