$4.1 Billion in Health Fraud Recovered
Total for Fiscal 2011 Sets a Record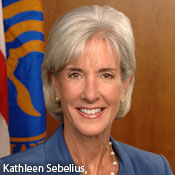 Federal authorities recovered nearly $4.1 billion in fraudulent healthcare payments in fiscal 2011, the largest amount ever recovered in a single year.
See Also: Splunk Predictions 2020
Kathleen Sebelius, secretary of the Department of Health and Human Services, and Attorney General Eric Holder made the announcement Feb. 14. They attributed the recoveries to the efforts of the Health Care Fraud Prevention & Enforcement Action Team - a joint effort of HHS and the Justice Department launched in 2009 - and Medicare Fraud Strike Force teams in nine cities.
The economic stimulus package provided $350 million for such fraud-fighting activities as enhanced screenings and enrollment requirements, increased data sharing across government, expanded overpayment recovery efforts and greater oversight of private insurance abuses.
Fraud Cases
Among the highlights of the 2011 report:
Federal prosecutors filed criminal charges against 1,430 defendants for healthcare fraud-related crimes, the highest in a single year. Of those, 743 have been convicted.
Strike force operations charged 323 defendants who allegedly fraudulently billed the Medicare program a total of more than $1 billion. Some 172 pleaded guilty, 26 were convicted and 175 were sent to prison.
In criminal matters involving pharmaceutical and device manufacturers, there were 21 criminal convictions and $1.3 billion in fines and payments.
About $2.4 billion was recovered through civil healthcare fraud cases brought under the False Claims Act.
Meanwhile, the Centers for Medicare and Medicaid Services has issued a proposed rule creating a specific timeline by which providers must return self-identified overpayments. Until now, there was no specific deadline.
The complete fraud report is available on the HHS website.