Meeting of the Minds Over Fed Cybersecurity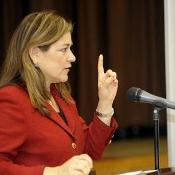 Cyber thieves shuttering ATMs and enemies disrupting battlefield IT systems are among the concerns of the California congresswoman whose influence on cybersecurity is growing as chair of the House Armed Services Subcommittee on Subcommittee on Terrorism, Unconventional Threats and Capabilities.Rep. Loretta Sanchez, Chair, House Armed Services Subcommittee on Terrorism, Unconventional Threats and Capabilities
With many committees and subcommittees having oversight over government cybersecurity, Rep. Loretta Sanchez thinks it would be a good idea to gather them together to map out steps Congress can take to help secure government IT.
Related Content
A month ago, the California Democrat took over the chairmanship of the House Armed Services Subcommittee on Subcommittee on Terrorism, Unconventional Threats and Capabilities. And among her first unofficial acts was to reach out to the chairs of other panels with cybersecurity oversight.
"Since I've become the chairwoman," Sanchez said in an interview with GovInfoSecurity.com, "I've asked for the person who handles this on Intel here in the House of Representatives, the person who handles it on Commerce and Energy Committee, the person who handles it on Homeland, the person who handles it on the Appropriations Defense Committee to all sit down with me and have a meeting about what each and everyone of us is worried about, looking at what have done form our end and to see what's falling between the floor boards."
Sanchez, who also is vice chair of House Homeland Security Committee and sits on its Subcommittee on Emerging Threats, Cybersecurity and Science and Technology, addressed in the interview:
What concerns her most about cybersecurity.
How secure are military and Defense Department IT systems.
Why she wants Congress to study cybersecurity insurance.
GovInfoSecurity.com's Eric Chabrow interviewed Sanchez.
Sanchez is in her seventh term in Congress, representing Anaheim and the surrounding areas of Orange County. She and Rep. Linda Sanchez, a Democrat who represents part of Los Angeles County, are the only sister pair ever to serve in Congress.
As co-chair of the Congressional Vietnam Caucus - her district has one of the largest concentrations of Vietnamese outside of Vietnam - Loretta Sanchez expressed outraged that Vietnam's government has been using the Internet as a weapon against its own people.
Sanchez earned a bachelor degree from Chapman University in Orange County and an MBA from American University.
Latest Tweets and Mentions