In Silence, Cybersecurity Action - Interview with Jim Flyzk, former Treasury CIO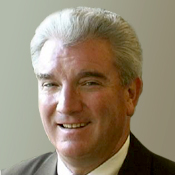 Cybersecurity isn't getting as much publicity in and around Washington as it did a month ago, when speculation was hot about what was in White House adviser Melissa Hathaway famous 60-day review of federal government cybersecurity policy and President Obama announced he intends to name a cybersecurity coordinator.
But, as Jim Flyzk says in this interview conducted Friday, June 12, much action is occurring behind the scenes, at government contractors with designs to win an expected increase in the number of federal cybersecurity contracts and along the corridors of the White House and Capitol as officials prepare for a sea change in the way the government addresses information security.
Related Content
One thing is for certain, Flyzk says, cybersecurity is now a crucial topic that won't be ignored.
Flyzk, if anything, is as well connected as anyone in Washington's government IT community. He spent 27 years in government, most notably as chief information officer of the Treasury Department and White House IT advisor on homeland security. Today, he heads his own consultancy, The Jim Flyzk Group, and hosts a monthly radio program, The Federal Executive Forum, on a local Washington radio station.
Flyzk spoke with Information Security Media Group's Eric Chabrow.
Latest Tweets and Mentions