Are Anti-Piracy Laws Really Needed?
Authorities Used Existing Laws to Shutter File-Sharing Site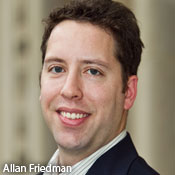 Does the U.S. government's shuttering of the file-sharing website Megaupload.com show that new laws are not needed to battle intellectual property piracy? Brookings's Allan Friedman believes it does.
"Given that the U.S. authorities have just used existing law, I think the answer is a resounding yes," Friedman says in an interview with Information Security Media Group. He's a fellow in governance studies and research director of the Center for Technology Innovation at Brookings, a Washington think tank.
Related Content
Federal authorities on Thursday charged the operators of Megaupload with violations of numerous conspiracy laws for pirating copyrighted music. The charges came as Congress suspended consideration of the Senate's Protect Intellectual Property Act and the House's Stop Online Piracy Act because of public objections of provisions of the bills. Opponents contend the legislation would violate Internet freedom. To protest the legislative proposals, a number of websites, including Wikipedia and Reddit, staged temporary blackouts this week.
"The interesting thing is that these lockers (such as Megaupload.com), as they're called, have been cited as reasons why we need these new laws," Friedman says. But he points out that existing laws, such as those used by federal authorities this week, seem to be adequate.
The charges against Megaupload's leaders provoked the hacker collective Anonymous to launch on Thursday denial-of-service attacks at Justice Department and FBI websites as well as those of the motion picture and recording industries' trade associations (see Hackers Target DoJ, FBI Websites).
Friedman contends the government could have been better prepared to defend the Justice sites. "Large organizations should have the capacity to withstand a reasonably sophisticated denial of service attack," he says. "The solution to a denial-of-service attack is to throw bandwidth at it. This isn't cheap. ... It requires a little bit of preparation; it requires having a flexible IT staff and then a watch officer situation. But this is the sort of thing that you would expect for the nation's top law enforcement agency."
In the interview, Friedman also discusses:
Why opponents consider PIPA and SOPA a threat to Internet rights and security;
How international cooperation to fight online child pornography and illicit gambling could be replicated to halt copyright infringement on the Internet;
The real damage caused by Anonymous assaults.
Before joining Brookings, Friedman was a fellow at the Center for Research on Computation and Society in the Harvard Computer Science department, where he worked on cybersecurity policy, privacy-enhancing technologies and the economics of information security. Friedman also was a fellow at the Belfer Center for Science and International Affairs, where he worked on the Minerva Project for Cyber International Relations. Friedman holds a Ph.D. in public policy from Harvard. He earned his bachelor degree in computer science from Swarthmore College.
Latest Tweets and Mentions