Fraud Fighters Wanted
Global Threats Create Boom Times for Fraud Examiners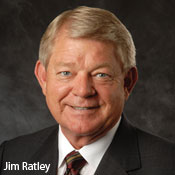 Today's top fraud threats recognize no global boundaries, says James Ratley, head of the Association of Certified Fraud Examiners. And they require a stronger global workforce than ever before."In Hong Kong (for instance), they have the same fraud problems there that we have in the United States," Ratley says. "The most shocking factor to me is that anyplace I've been in the world, people react the exact same way to fraud ... fraud perpetrators use the same excuses, they perpetrate the fraud with the same methods and same techniques, managers all react the same."
Related Content
Related Whitepapers
And job opportunities abound for those who want to help detect and prevent fraud as a certified fraud examiner, he says.
"The field is exploding," Ratley says "There are tremendous opportunities available both in the government sector and in the private sector.
"More and more, the fraud examination field is being a draw to our college students and [other] people that want to come into the profession."
In an exclusive interview about global fraud trends and career opportunities for fraud examiners, Ratley discusses:
Today's top fraud risks;
How the fraud examiner profession has evolved;
Skills necessary to enter the profession today.
A former Dallas police officer, Ratley left the police department in 1986 to join Wells & Associates, a forensic accounting practice, where he was in charge of fraud investigations. He handled investigations regarding internal frauds, conflicts of interest, and litigation support. In 1988, he was named Program Director for the Association of Certified Fraud Examiners and oversaw all aspects of the ACFE's training and education programs.
In 2006, Ratley was named President of the ACFE, and in 2011 he was also named CEO of the organization. In this role, he works to promote the ACFE to the public and other professional organizations and continues to assist in the development of anti-fraud products and services to meet the needs of ACFE's members. In addition, he is a member of the ACFE's faculty, and teaches regularly at workshops and conferences on a variety of fraud-related subjects.
In 2005, Ratley was awarded the Association of Certified Fraud Examiners' Cressey Award. The Cressey Award is the ACFE's highest honor. It is bestowed annually for a lifetime of achievement in the detection and deterrence of fraud.
Latest Tweets and Mentions