Reitinger's Quest: Build a Safer Internet
Collaborating to Prevent Vulnerabilities and Enhance Cyberdefense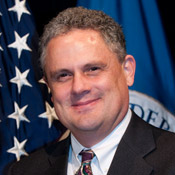 Philip Reitinger, the top cybersecurity official in the Department of Homeland Security, is on a mission to help create a new, secure computing ecosystem on the Internet.The deputy undersecretary of DHS's National Protection and Programs Directorate - the highest cybersecurity position in the department - led a team that last month published (see DHS Envisions a Healthy Cyber Ecosystem) a white paper entitled Enabling Distributed Security in Cyberspace.
Related Content
Without moving to this new computing environment, functioning in today's Internet-tied world could be threatened, Reitinger says in an interview with GovInfoSecurity.com.
"Unless people start to really pay attention to the threat and how we need to drive fundamental change, we're in a world that is going get worse from day to day and month to month and year to year," he says. "And, we're going to be in a place eventually where your television is going to complain that it's being attacked by your refrigerator and isn't able to operate anymore. None of us wants to live that world."
The DHS white paper explores technical options for creating a more secure and resilient network of networks, and explores how three security building blocks - authentication, automation and interoperability - can enhance vulnerability prevention and cyberdefense. And, Reitinger says he sees the paper as the beginning of a broad, technical conversation with others in government, the private sector and citizens on achieving what he characterizes as the "new normal."
"The truth about Internet right now is that offense wins," Reitinger says. "If somebody wants to break into your computer, and they have the time and resources to apply, they will be able to get in. If you want to defend your computer completely, you better not connect it to the Internet, not use it, not even power it on. So we got to get to a different place."
In the interview, Reitinger delves into the importance of the three building blocks of the new Internet ecosystem.
Reitinger is often the executive branches face on cybersecurity matters, often the administration's key representative before congressional committees (see Analysis: Face of Federal IT Security Leadership).
Before joining DHS in 2009, Reitinger serves as Microsoft's chief trustworthy infrastructure strategist, responsible for helping improve the protection and security of the nation's critical IT infrastructure. At that job, he worked closely with government agencies and private partners on cybersecurity protection programs to build trustworthy computing systems worldwide.
While at Microsoft, he served as a member Federal Emergency Management Agency National Advisory Council, advising the FEMA administrator on aspects of cybersecurity related to emergency management. FEMA is a unit of DHS.
Reitinger is an expert on computer crime and policy, and previously was the executive director of the Department of Defense's Cybercrime Center, charged with providing electronic forensic services and supporting cyber investigative functions. Before joining DoD, Reitinger served as deputy chief of the computer crime and intellectual property division at the Department of Justice.
Reitinger holds a law degree from Yale Law School and a bachelor degree in electrical engineering and computer science from Vanderbilt University.
Latest Tweets and Mentions