Aneesh Chopra Resigns as Federal CTO
Report: Mulls Run for Virginia's Lieutenant Governor in 2013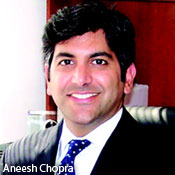 (Page 2 of 2)
Chopra's boss at the White House, John P. Holdren, said working with Chopra for nearly three years proved to be an invigorating experience. "Among a dizzying array of accomplishments, Aneesh helped design the president's National Wireless Initiative, including the development of a nationwide public safety broadband network, establish a set of Internet Policy Principles including the call for a Consumer Privacy Bill of Rights, and led the implementation of the president's open government strategy focused on unlocking the innovative potential of the federal government to solve problems and seed the jobs and industries of the future," Holdren, director of the Office of Science and Technology Policy, said in a White House post.
See Also: OPM Breach Aftermath: How Your Agency Can Improve on Breach Prevention Programs
In a Twitter post, Federal Chief Information Officer Steven VanRoekel wrote: "Honor to work alongside CTO @aneeshchopra for the last six months. Will miss his passion, his drive, leadership and friendship."
Jennifer Covich-Bordenick, chief executive officer of the not-for-profit healthcare technology advocacy group eHealth Initiative, praised Chopra as an "incredibly dynamic leader who got people excited about healthcare technology."
No word yet on who will be Chopra's successor as CTO. But whomever Obama picks, new challenges await. "His successor faces a different set of challenges, including economic constraints and an increasingly skeptical public that wants proof that information technology really does improve healthcare delivery and patient outcomes," Covich-Bordenick said. "In my view, the next CTO should make this his top priority, starting on day one."
No. 1 or Not?
Whether Chorpa served as the first federal CTO is debatable. In 2002, Norman Lorentz, a senior staffer in the White House Office of Management and Budget, was designated chief technology officer (see When Firsts Aren't Really Firsts). "That's an account of history I guess they want to forget that," Lorentz, with a slight chuckle in his voice, said at the time of Chopra's appointment. "I've moved past that."
Lorentz's then boss at OMB, Mark Forman, said Chopra's job and the one held by Lorentz were markedly different. "Norm was in charge of overseeing the federal enterprise and really how technology got leveraged into the operations, into the business architecture of the federal government," Forman said. "By moving that position over to the Office of Science and Technology Policy, you're really focusing on broader issues. OSTP is a policy organization as opposed to an official engagement in the management operations in government."
Forman, by the way, served as the federal government's first administrator for e-government and IT, a post now known as federal chief information officer.
Latest Tweets and Mentions