Disaster Averted for Most IT Systems
Irene's Floods Cause IT Havoc in Vermont
By Information Security Media Group, August 29, 2011.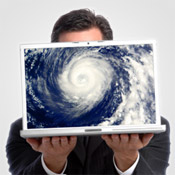 I
See Also: OPM Breach Aftermath: How Your Agency Can Improve on Breach Prevention Programs
T systems operated by governments, hospitals, financial institutions and other businesses averted catastrophe, for the most part, as Hurricane and then Tropical Storm Irene stormed through the Eastern seaboard over the weekend.
With the exception of the state of Vermont, where flooding knocked out one data center, most other state governments from North Carolina to Maine reported scattered power outages that disrupted IT services and websites. Officials mostly deemed the disruptions more of an inconvenience than a disaster to recover from.
Related Content
"We were at the emergency operations center in Smyrna during the entire storm and were ready to pull the trigger on our COOP (continuity of operations plan) and DR (disaster recovery) plans if need be," Elayne Starkey, Delaware state chief information security officer says. "We dodged a bullet, for sure."
In New York City, several hospitals in flood-prone areas that evacuated all patients on Friday, reopened, at least partially, on Monday after restoring access to information systems. And, another hospital supplemented its business continuity plan with the approach of Irene. Meanwhile, the FBI issued a warning of phishing scams tied to Irene. The National Credit Union Administration also is taking precautions to ensure the safety of its institutions and staff. Three priorities laid out in a are ensuring the safety of credit union staff, keeping facilities and operations available to members and providing material and technical assistance, as needed, to affected credit unions.
And the Federal Deposit Insurance Corp. has issued guidance to financial institutions affected by Hurricane Irene. "The FDIC recognizes the serious impact of Hurricane Irene on customers and operations of financial institutions and will provide regulatory assistance to institutions subject to its supervision," the guidance states.
Institutions along the East Coast of the United States were significantly damaged due to the hurricane. In the wake of the disaster, the FDIC is encouraging institutions to work constructively with borrowers experiencing difficulties beyond their control because of hurricane damage.
After a week causing mayhem in the Caribbean, Irene struck eastern North Carolina's Outer Banks on Saturday morning, moving up the Atlantic coast to make a second landfall the following morning in southern New Jersey. Later Saturday, Irene made a third landfall in Brooklyn's Coney Island. Moving up through upstate New York and New England, Irene - downgraded to a tropical storm - caused massive flooding, especially in New York State and Vermont. As of Monday morning, the Federal Emergency Management Agency reports, some 5.4 million people along the East Coast were without power. Irene also is blamed for at least 44 deaths.
Most states reported few if any disruptions of IT services. New Hampshire Chief Information Officer Bill Rogers says the storm caused power fluctuations at its data centers, but backup generators and uninterruptible power supply systems kept servers functioning. Connecticut reported only 35 minor outages of different state network links, most related to power loss. "Those networks are coming back up when power does," state Chief Information Officer Mark Reynolds says. "Alternative network and communication has been established for all the off-line links. We have no systems offline."
Vermont Hit Hard
In Vermont, before Irene hit the state Sunday night, the government backed up data, so when floods swamped one data center that lost power as well as some hardware including servers and arrays, critical information remained secure at a remote site. Vermont officials knew the data center was vulnerable to flooding. "But we were not expecting six feet of water," Vermont state CISO Kris Rowley says. "The rainfall amounts looked more like snowfall amounts."
Flooding also presented a challenge to coordinate recovery efforts as state officials had to evacuate its emergency management department Sunday night. Still, Rowley says, communications remained opened. "Our IT departments have been in constant touch for the same period of time," she says. "The governor closed all state offices today (Monday) but our IT department has been actively working since early morning trying to reestablish systems, e-mail and Internet to agencies that are down."
Yet, it could take days if not weeks for the state to recover from the massive flooding. "There is still flood waters in areas where work needs to be done, including inside buildings," Rowley says. "Until that clears, work will progress slowly."
NYC Hospitals Revived
Latest Tweets and Mentions