5 Must-Have Skills for Fraud Examiners
Careers Open for Pros Who Can Track a Digital Trail
By Upasana Gupta, July 13, 2011.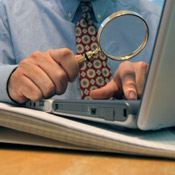 I
See Also: OPM Breach Aftermath: How Your Agency Can Improve on Breach Prevention Programs
t appeared to be a classic case of
embezzlement
.
Jean-François Legault, a lead fraud examiner at Deloitte, was investigating a client case, and he knew that an executive was hiding corporate funds. But he didn't know where the money was going.
In a traditional fraud investigation, there would have been a lot of interviewing and reviewing of documents. However, in this case, Legault and his team simply seized the suspect's computer. Then, using forensics analysis to review the hard drive, Legault's team followed the data trail on e-mails and documents and were able to see accesses to online bank accounts and bank statements. Further analysis of the digital evidence led the investigators to the amounts that were being transferred out from the company which matched them perfectly with the amount in the executive's bank statements.
Related Content
This case illustrates exactly how fraud - and the fraud examiner's role - have evolved.
"Our role is changing in the fact that we see fraud being perpetrated in a new manner everyday via malicious software, banking trojans and online theft," says Legault, senior manager, Forensics & Dispute Services at Deloitte. "Technology is acting as an enabler for both the fraudster and investigator. As the fraudster uses technology to commit fraud, they leave a trail of bread crumbs on the computer they used, that we can, in fact, recover and follow."
Evolution of Fraud Examiner's Role
In the late 1980s, fraud examiners did not exist. There was wide disparity in the way fraud cases were handled, no best practices, and most of the time nothing was done about incidents.
"When I first started working, most fraud cases were in the hundreds of thousands of dollars, and if you got anything close to a million dollars, you had a massive fraud," says James Ratley, president for the Association of Certified Fraud Examiners (ACFE), an anti-fraud training and education organization. "In today's market, nobody really pays much attention to anything that's not in the millions or even the billions. Plus with computers and identity fraud, it's so much easier to steal."
Over time, the occurrence of fraud became so frequent and expensive that organizations were forced to deal with it. Thus came the position of a fraud examiner in corporations. This role is mainly charged with combating a broad range of corporate crime, including classical financial schemes such as embezzlement, illegal disbursements, check fraud, money laundering, waste and abuse of corporate resources.
As a healthcare industry auditor and fraud examiner, Tamara Turner has seen the profession evolve from finding fraud retrospectively to having an active fraud task force within organizations that proactively works to prevent and detect fraud.
"Today we have set processes in place to identify fraud, to know which law enforcement agency needs to be notified and which business executives contacted to escalate the issue and discuss ways to prosecute a fraudulent case," Turner says.
Within healthcare, the reforms and initiatives around Medicaid, Medicare and the transition to electronic health records are shaping the profession, as corporations are pushed by regulatory obligations to invest in human capital and software technology to fight fraudulent activities. "We are getting aggressive in analyzing patterns of fraud types and researching information upfront to determine whether or not a fraud is committed," Turner says.
Career Opportunities
Kathy Lavinder, president of Security and Investigative Placement Consultants, a retained search firm, finds a whole array of opportunities for fraud examiners both in the public and private sectors.
"The job market is exploding for professionals who are conversant with business executives and know how to follow a data trail and review digital evidence," she says.
Healthcare organizations and banking institutions have full-time corporate roles for fraud examiners within their auditing and anti-fraud departments. In addition, individuals with forensic capabilities are in high demand with law enforcement, government agencies, defense contractors and private consulting companies.
Latest Tweets and Mentions