House Creates GOP-Only Cybersec Task Force
Democrat Criticizes Speaker for Abandoning Bipartisanship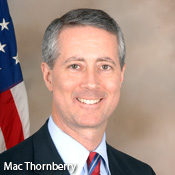 Don't expect the House of Representatives to pass any significant cybersecurity legislation until the fall at the earliest

House Speaker John Boehner announced Friday the formation of a Republican-only House Cybersecurity Task Force that will examine and make recommendations on cybersecurity authorities, public-private information sharing, critical infrastructure and domestic legal frameworks, as well as evaluating the Obama administration's cybersecurity proposal (see White House Unveils Cybersecurity Legislative Agenda).

The task force will report back to GOP leaders in October, according to a statement issued Rep. Mac Thornberry (pictured), the Texan who Boehner named to lead the task force. "Cybersecurity needs to be a priority, and this task force will lay the foundation to make it one in the House," Thornberry said.

Cybersecurity has been a bipartisan effort in Congress, but an influential Democratic House member on cybersecurity matters said in a statement he is deeply disappointed Boehner excluded Democrats from the task force.

"I have kept partisan politics out of this national security effort," said Rep. Jim Langevin, D-R.I., who cofounded the Congressional Cybersecurity Caucus with Republican Rep. Mike McCaul of Texas, both of whom served as co-chairs of the Commission on Cybersecurity for the 44th Presidency, a bipartisan panel that presented a cybersecurity blueprint for the incoming president in 2009.

"When Speaker Boehner took office earlier this year, I reached out to his office to offer my legislative experience in developing a bipartisan approach to finding solutions to the challenges we face in cyberspace," Langevin said. "Recently, I followed up with a letter urging the speaker to proceed in a bipartisan fashion. He has apparently chosen to reject this path."

Republican leaders did not explain why they decided to exclude Democrats from the task force.

The approach the House is taking to develop a cybersecurity legislative agenda is more formal than the one adopted by the Senate, where Democrats hold the majority. Senate Majority Leader Harry Reid has held informal meetings with the chairs of committees with cybersecurity oversight, prompting them to agree on comprehensive cybersecurity legislation. Cybersecurity measures emanating from the House are expected to be focused more narrowly on specific issues.

In December, weeks after Republicans regained control of the House, Boehner tapped Thornberry to coordinate ways to more efficiently address cybersecurity legislation in a Congress where nearly every committee has some sway (see Texan Emerges as House Infosec Leader). Indeed, some task force members chair House panels with cybersecurity oversight. Task force members include McCaul, Robert Aderholt of Alabama, Jason Chaffetz of Utah, Mike Coffman of Colorado, Bob Goodlatte and Rob Hurt of Virginia, Bob Latta and Steve Stivers of Ohio, Dan Lungren of California, Tim Murphy of Pennsylvania and Lee Terry of Nebraska.