Standards, Regulations & Compliance
Senate Democrats Unveil Cybersecurity Bill
Bill Seen as a Commitment by Senators to Act in 112th Congress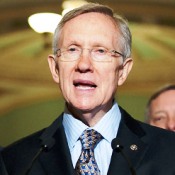 The first of what should be a slew of bills aimed at safeguarding government IT and the nation's critical information infrastructure was introduced by Senate Majority Leader Harry Reid (pictured at left) and the Democratic chairs of the seven committees with IT security oversight.

According to a statement issued by Reid's office, the legislation - Cybersecurity and American Cyber Competitiveness Act - calls for urgent action to safeguard critical infrastructure, including the electric grid, military assets, the financial sector and telecommunications networks. The legislation urges incentives for the private sector to assess the risk of cyberterrorism and take action to prevent it and promote investments in the American IT sector, which the legislation's authors contend will create high-paying jobs.

The measure also seeks to improve the capability of the federal government to assess cyberrisks, and to prevent, detect and respond to attacks. It calls for safeguards to protect consumers by preventing identity theft and fraud, and guarding against abuses of personal information, and seeks to promote cooperation between nations in responding to cyberthreats.

Sen. Joseph Lieberman, ID-Conn., said in a statement that the future security of the American way of life depends on passage of comprehensive cybersecurity legislation that will provide the federal government with modern tools to secure and defend the nation's most critical networks and assets. "Last Congress we made great, bipartisan strides toward passing such legislation, and I'm pleased the Cybersecurity and American Cyber Competitiveness Act will build on that progress," said Lieberman, who chairs the Senate Homeland Security and Governmental Affairs Committee. "I commend Sen. Reid for making cybersecurity legislation a priority in the 112th Congress and I urge the administration to do the same and engage in the legislative process as soon as possible."

A statement issued by the sponsors says hackers probe government computer networks millions of times a day, about 9 million Americans have their identities stolen each year and cybercrime costs large American businesses $3.8 million a year. More than $1 trillion worth of and intellectual property has already been stolen from American businesses.