State Department Creates Cyber Coordinator Post
Plan for New Position in Works Year Before WikiLeaks Beach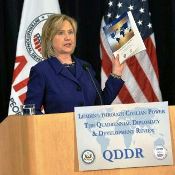 A newly created State Department Office of the Coordinator for Cyber Issues, unveiled in a 242-page report issued Wednesday, is charged with uniting different parts of the department working on cyber matters to more effectively advance America's cybersecurity interests.

The new post was part of other State Department reforms contained in the First Quadrennial Diplomacy and Development Review.

Clinton, in a briefing, said the reforms will harness the power of innovation and apply new technologies as the department searches for creative solutions to entrenched bureaucratic problems. "We will practice what you've heard me call 21st century statecraft, embracing not just new tools and technologies, but also the innovators and entrepreneurs behind them," she said. "We will protect ourselves, our networks and our confidential correspondence through reforms like the creation of a new coordinator for cyber issues."

Anne-Marie Slaughter, State Department director of policy planning, said the WikiLeaks episode that resulted in the unauthorized release of more than 250,000 sensitive and classified diplomatic cables didn't play into the decision to create the cyber coordinator position.

"That decision was actually taken nearly a year ago, and it has taken a while to find the right person and to create the structures to work with the government," Slaughter said at another briefing Wednesday. "But that was the result of an overall review on how the government as a whole needs to be organized for cyber-security. It was way, way before WikiLeaks. We certainly hope that once that person is working, as the secretary said, we will be able to do much more to protect the confidentiality of our communications."

The creation of the new post is in addition to a White House order prompted by the WikiLeaks leak that each department and agency that handles classified information establish a security assessment team consisting of counterintelligence, security and information assurance experts to review the agency's implementation of procedures for safeguarding classified information against improper disclosures.

According to the First Quadrennial Diplomacy and Development Review, the still-to-be-named coordinator will lead State's global diplomatic engagement on cyber issues, serve as the department's primary liaison to Howard Schmidt, the White House cybersecurity coordinator, for activities involving cyber issues, and serve as liai¬son to other federal agencies that work on cyber issues.

State Department bureaus working on cyber matters will name a representative to work directly with the Office of the Coordinator, and representatives of regional bureaus will partici¬pate in a working group under the coordinator's authority. The coordinator will be in the Office of the Secretary, will report to Clinton, and will be guided by a cyber advisory council, chaired by Deputy Secretary James Steinberg and including Robert D. Hormats, undersecretary for economic growth, energy and the environment; Ellen Tauscher, undersecretary for arms control and international security; and Patrick Kennedy, undersecretary for management. Other senior department officials will be consulted as appropriate.