Spaf on Security Education in 2011
Interview with Prof. Eugene Spafford of Purdue University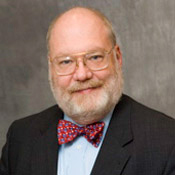 C
See Also: Don't Be The Next OPM: Recognizing Risk
ould it be that schools, businesses and government are finally coming together to create a dynamic new impact on information assurance education?
Gene Spafford is optimistic. Having shared his reservations about the state of information assurance education in previous interviews, "Spaf," as he's known to students and colleagues, has positive vibes about 2011.
"There appears to be a little more focus from both industry and government," Spafford says. "There's a greater demand for well-trained students. There appears to be greater attention on resources being brought to bear on developing education programs."
Related Content
The trends are positive, he says. "We're moving in the right direction."
That said, Spafford still feels there has been more talk than action.
"We haven't seen industry step forward and provide equipment," he says. "We haven't seen them provide, really, the training into higher education or provide the kinds of things that would allow people to affordably retrain from industry. We haven't seen government provide funding to increase the number of students going through programs or to increase the resources and classrooms to get the training. So that is a problem."
In an exclusive interview on career trends for 2011, Spafford discusses:
Spafford is a professor with an appointment in Computer Science at Purdue University, where he has served on the faculty since 1987. He is also a professor of Philosophy, a professor of Communication and a professor of Electrical and Computer Engineering. He serves on a number of advisory and editorial boards. Spafford's current research interests are primarily in the areas of information security, computer crime investigation and information ethics. He is generally recognized as one of the senior leaders in the field of computing.
He is Executive Director of the Purdue Center for Education and Research in Information Assurance and Security, and was the founder and director of the (superseded) COAST Laboratory.
TOM FIELD: So in terms of information assurance education, what are your thoughts? Are we better off as we head into 2011 than we were a year ago coming into 2010?
EUGENE SPAFFORD: I think overall we're perhaps a little bit better, a little bit better off. We have a little bit more emphasis on the field. It is clear that there are some greater needs, a little bit more attention on what is going on.
State of Information Assurance Education
FIELD:
What is the difference today, for better or for worse, in information assurance education than we've seen over say the past five years?
SPAFFORD: There appears to be a little bit more focus both from industry and government on the need for students getting some education in this arena. There is a greater demand for some well-trained students. There appears to be some greater attention being placed on resources being brought to bear to develop educational programs. We haven't seem them filter into the education environment yet, so I wouldn't say that the resources are there, but there is greater attention and a little bit more hope going on. There has been a little bit more movement in that direction, so the trend is positive and there is greater awareness. So we're moving in the right direction.
FIELD: Well that is something that I wanted to ask you about because we hear an awful lot about a national emphasis on cybersecurity, but how does that trickle down to education?
SPAFFORD: Well, over the last year or so, I've seen a number of high level and medium level workshops. There have been conferences and a number of people talking about how best to integrate information into the curriculum. How do we teach this information? People in industry have stepped forward expressing a strong commitment to hire people in this area. We've had people in Washington talking about need for putting in resources, so the awareness has increased and that is good.
Latest Tweets and Mentions