Mark Weatherford Resigns as California CISO
He's the Second Senior California IT Official Set to Leave for D.C.
June 17, 2010.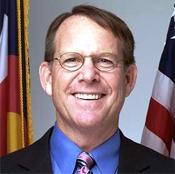 M
See Also: OPM Breach Aftermath: How Your Agency Can Improve on Breach Prevention Programs
ark Weatherford is leaving his job as California chief information security officer to become vice president and chief security officer at the North American Electric Reliability Corp., a not-for-profit with the stated mission to ensure the reliability of the bulk power system in North America.
"My job in California has been the highlight of my career and I'm very proud of the accomplishments my team and the entire state information security community have made over the past two years," Weatherford said in a statement. "Joining NERC will give me the opportunity to continue serving the citizens of our nation while ensuring the reliability and security of the bulk power system in the United States, Canada and part of Mexico."
Related Content
Weatherford said he would leave his current post in July, and relocate to Washington.
NERC Chief Executive Officer Gerry Cauley said in a statement that Weatherford's achievements and his collaborative leadership style make him the right person at this critical time for NERC. "Cybersecurity issues continue to be one of NERC's top priorities and Mark's knowledge and expertise will be vital as we continue to address critical infrastructure standards," he said.
In an interview last year with GovInfoSecurity.com, Weatherford described his role as developing IT security policy for state government, which has a decentralized IT system. "One of the things that I discovered pretty quickly after arriving was that we didn't really have comprehensive and consistent security policies across the state," he said. "I put a program together where we have begun an enterprise policy organization where we set the bar for everything that you would consider appropriate for a policy for all of the state agencies."
Weatherford is the second senior IT official in California set to leave state government for the nation's capital. President Obama in March nominated California Chief Information Office Teri Takai to be the CIO at the Department of Defense. Takai is awaiting Senate confirmation.
California's CISO since May 2008, Weatherford served in the same position in Colorado for the previous three years. His successor in Colorado, Seth Kulakow, announced last month his resignation.
Here are interviews GovInfoSecurity.com has conducted with Weatherford:
Keeping IT Secure During a Budget Crisis
Is Security Hampered by Decentralized IT?
Calif. CISO Oversees Execution of Standards

Latest Tweets and Mentions