April Date Likely for Alexander Confirmation Hearing
NSA Director Nominated to be First Military Cyber Commander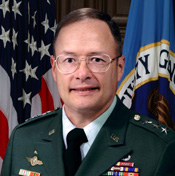 T
See Also: CISO Agenda 2015: Adding Value to a Security Program with Application Security
he long wait to confirm Army Lt. Gen. Keith Alexander to be commander of the newly formed military Cyber Command could be over in a matter of weeks.
The Senate Armed Services Committee will likely hold a confirmation hearing by mid-April on the nomination of Alexander, who serves as the National Security Agency director. If confirmed as head of the new command, to be based along side NSA's headquarters in Fort Meade, Md., Alexander would retain his NSA directorship and receive a promotion to 4-star general, the highest rank a military officer can hold in peacetime.
Related Content
"The committee is awaiting Gen. Alexander's responses to the committee's advance policy questions and expects to hold his nomination hearing shortly after the Easter recess," Tara Andringa, press secretary to committee chairman Carl Levin, D.-Mich., said Thursday, responding to an e-mail inquiry. The committee sent the questionnaire to Alexander on March 6. Andringa didn't disclose the questions the committee is seeking answers from Alexander.
But the questions likely focus on the chain of command, how he would use his different authorities and the relationship between the military command and civilian intelligence agencies, said James Lewis, senior fellow at the Center for International and Strategic Studies and expert on government and military cybersecurity policy. "They are working through some of the hard problems and that is what the reason for the delay is," Lewis said in an interview with GovInfoSecurity.com earlier this year.
Deputy Defense Secretary William Lynn, in remarks made last June, said the command neither represents a DoD grab to take over government cybersecurity efforts nor the militarization of cyberspace. "On the contrary, such a command would not be responsible for the security of civilian computer networks outside the Defense Department," Lynn said. "Its mission would be to protect and defend our defense and military networks: .mil. Responsibility for protecting federal civilian networks would remain with the Department of Homeland Security. Likewise, responsibility for protecting private-sector networks would remain with the private sector."
It's been nine months since Secretary of Defense William Gates issued a memo saying the NSA director should also serve as the new Cyber Command commander and more than five months since President Obama nominated Alexander as Cyber Command chief.
In the meantime, all four service branches consolidated their individual cyber forces and created new unified commands in anticipation of the joint Cyber Command and to better ease the integration of its operations, James Miller, principal deputy undersecretary of Defense for policy, said in a statement. The department also has started to train and equip cybersecurity experts and expects to develop a readily available workforce of cyber specialists, he said.
Also read:
Defending IT: Words from the New Military Cyber Commander Keith Alexander

Military Mulls Joint Cyber Defense
Latest Tweets and Mentions