The Internet: Model T of the 21st Century
Safety Isn't Job 1 in Old Auto or on the Web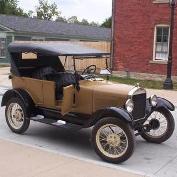 F
See Also: Identity, Security and Risk Requirements for a New IAM Architecture
ord Motor's slogan - Quality is Job 1 - didn't refer to its Model T, at least when it came to safety. Still, that didn't prevent the Model T from becoming the world's most popular car - more than 15 million manufactured between 1908 and 1927 - as motorist tossed safety concerns to the wind, much as today's Internet users love exploring the web as they disregard security threats.
The auto industry failed to manufacture safe cars, so the government stepped in with regulations, and James Lewis sees the same pattern possibly happening with the Internet.
Related Content
"We haven't seen the demand for security, and some people say that is because people don't know the threat," Lewis, senior fellow at the public policy group Center for Strategic and International Studies, said in an interview with GovInfoSecurity.com (transcript below). "The Model T was a dreadful car, old, antiquated, wooden parts, no seatbelts, no safety, but people loved them because they were so cool and that is kind of like the Internet. People love it and they use it even though they know it is not secure. They don't realize the risk to themselves and so individuals are willing to accept a risk. But, when you aggregate that risk, it is very damaging for the larger society.
"And, so just like cars where we had to set standards for safety - seatbelts and all of the other stuff - that is kind of the model we are in. There are some things that the market will not produce."
In the first of a two-part, wide-ranging interview, conducted by GovInfoSecurity.com's Eric Chabrow, Lewis explains why the federal government must take the lead in securing America's key digital assets, despite the fact that much of the nation's critical IT infrastructure is owned by business. He also grades President Obama's performance as a cybersecurity leader and discusses:
How the White House cybersecurity coordinator's position could evolve into a more independent role, similar to that of the U.S. trade representative.
Challenges faced by the new cybersecurity coordinator, Howard Schmidt, including avoiding mistakes made by previous administrations.
The need to trust the National Security Agency despite its involvement with warrantless, electronic searchers during the Bush administration.
In Part 2 of the interview, Lewis addresses the roadblocks Congress faces in enacting meaningful cybersecurity legislation this year and the continuing work being conducted by CSIS's Commission on Cybersecurity for the 44th Presidency, which is studying identity management, situational awareness and international engagement. Lewis is project leader of the Commission, which produced a highly regarded report that served as a roadmap for the Obama administration in developing its cybersecurity policy.
Lewis is recognized as one of Washington's most respected thought-leaders on government cybersecurity policy. As a senior fellow at CSIS, Lewis conducts research and writes on technology, national security and the international economy. Before joining CSIS, Lewis worked as a foreign service officer and as a member of the senior executive service. His assignments involved Asian regional security, military intervention and insurgency, conventional arms negotiations, technology transfer, foreign investment and the defense industry, sanctions, internet policy, and military space programs.
Lewis received his Ph.D. from the University of Chicago and has authored more than 40 publications on a range of topics since coming to CSIS, including: Assessing the Risks of Cyber Terror and Cyber War, Strengthening Law Enforcement Capabilities for Counter-Terrorism and Globalization and National Security.
ERIC CHABROW: We are approaching the first anniversary of President Obama's inauguration. What grade would you give the president in confronting the cybersecurity challenges that face the nation?
JAMES LEWIS: I would probably give him a B, B+. The issue that people have fixated on has been the cyber coordinator at the White House, and hat has been interesting to watch it play out. Not encouraging, but in other agencies there has been a lot of activity and we can't necessarily see the results right now, but the DOD (Department of Defense), DHS, the Homeland Security Department, even at State, we are beginning to see people do things so I would give him a pretty good grade.
Latest Tweets and Mentions