Military Mulls Joint Cyber Defense
IT Security Specialist Need Explained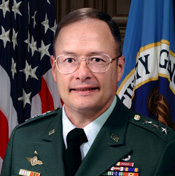 As part of its realignment to defend vital government and national information and communications networks, the Defense Department is considering establishing a joint, cyber command center in Maryland, the director of the National Security Agency told Congress.

"The next steps in this transformation will require a more substantial reorganization, which is one reason why the DoD is considering the establishment of a new sub-unified command for cyber, under the United States Strategic Command, that would be headquartered at Fort Meade," Army Lt. Gen. Keith Alexander told the House Armed Services Committee's Subcommittee on Terrorism, Unconventional Threats and Capabilities at a hearing on Tuesday.

"The creation of a single, sub-unified cyber command would provide the DoD with a command comprised of forces and capabilities better aligned to conduct cyber operations and capable of evolving to meet and overcome challenges presented by operating in cyberspace at the speed of cyber," Alexander, who also serves as commander of the Joint Functional Component Command for Network Warfare, said in his prepared statement.

The House subcommittee also heard from other senior Defense IT leaders who pointed out the need to recruit, train and retain more qualified IT personnel civilian and military including those with information security skills.

In his testimony, Alexander said cyberspace - unlike land, sea, air and space where the laws of physics don't change - is a human creation that continually evolves, operating effectively in an environment that requires leveraging expertise from many disciplines. "We must close the seams between information assurance, network operation and defense, intelligence collection and offensive operations," he said.

With that in mind, Alexander pointed out that the Strategic Command's decision to place the Joint Task Force - Global Network Operations - which directs the operation and defense of DoD networks - under his command would better integrate and synchronize military defensive cyber operations. "This necessary initial realignment is a significant step toward the establishment of a command that is organized to operate and defend vital networks and project power in cyberspace," he said.

Other witnesses spoke of another major challenge facing the military confronts: training, employing and retaining civilian and military personnel to keep defense systems secure. "Maintaining a robust foundation of educated and trained technical professionals is a national security issue," Lt. Gen William Shelton, the Air Force chief war-fighting integration and chief information officer, testified.

"Like many others, I am concerned about the decreasing number of engineering, science and mathematics graduates from our nation's colleges," Shelton said "To assure our success, the Air Force will continue to need officers and civilians with technical educational backgrounds.

"The waning interest in science, math and technology, coupled with the rising demand for private sector IT and engineering professionals, will challenge our ability to attract, recruit and retain technically qualified military and civilian personnel. We believe this is not just an educational issue or an issue of competitive advantage."

Navy CIO Robert Carey agreed that identifying, attracting and retaining a highly qualified total workforce is an continuing challenge which the Navy Department (DON) is aggressively attacking through multiple strategies. "A highly skilled workforce, trained to common DON, DoD and federal standards is essential to meeting cyberspace requirements," Carey said. "The effective operation and governance of our IT will be grounded in the abilities of our workforce. Cyberspace spans multiple occupational fields, and the workforce communities must be highly synchronized to be effective.

"The DON must also address the ability of our current education and training development model to integrate lessons learned and the requirements of a rapidly changing IT domain. We must create a more responsive process of training development. We are investigating and leveraging all available education and training sources and processes to streamline, improve and align our training development and delivery."

Army Deputy CIO Michael Krieger said the Army is updating its training curriculum to support new cyber skills needed to operate, maintain and defend its computer networks.

"Recent network events have highlighted the need for a well-trained workforce capable of operating, maintaining and defending the network," Krieger said. "As a result the U.S. Army is reviewing the development and tracking of its highly skilled workforce, and looking to update the officer, warrant officer and enlisted career management fields for conducting cyberspace operations."

Krieger testified about one initiative, the Army's mobile training teams, which travel to sites throughout the service branch to provide mandatory training for its information assurance and cyber workforce. These exercises train units to operate, maintain and defend the network from directed professional attacks, which he said results in improved procedures for communicating with other services, agencies and combatant commands. These training exercises also provide a forum to study future joint, interagency, intergovernmental and multinational operations, he said.